Etihad Airways and Gulf Air have signed a commercial agreement to "deepen their partnership" in several areas.
The two carriers have been working more closely since signing a memorandum of understanding to explore "deeper cooperation" at the Bahrain air show in 2018.
Today's agreement, which is subject to government and regulatory approvals, builds on that MoU, the airlines say, by expanding an existing codeshare arrangement, among other measures.
"By June 2021… Etihad and Gulf Air will be able to offer up to an additional 30 combined destinations beyond the Abu Dhabi and Bahrain hubs, across the Middle East, Africa, Europe and Asia," they state.
The airlines will further work "to optimise joint operations on the Abu Dhabi-Bahrain route, with improvements to network connectivity over each of the partners' hubs".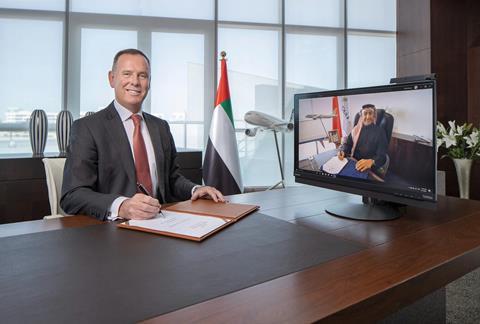 There will also be increased harmonisation of frequent-flyer benefits.
The airlines add that they will "revisit" opportunities outlined in the MoU to jointly explore MRO, pilot and crew training, and cargo opportunities.
Etihad chief executive Tony Douglas says the deal "reinforces the strength of the ongoing partnership between our two airlines".
Waleed Al Alawi, Gulf Air's acting chief executive, concurs: "This agreement will empower both of us to offer a more elevated experience to passengers and widen their travel options."
Abu Dhabi was an original shareholder in Gulf Air, before establishing Etihad 15 years ago.