Etihad Airways group chief executive Tony Douglas believes the restructured UAE carrier is still on track to meet its original target of returning to profit in 2023, despite the negative impact of the pandemic.
The Abu Dhabi-based carrier today disclosed a core operating loss of $476 million for 2021, cutting losses from the $1.7 billion it incurred in the pandemic-hit 2020.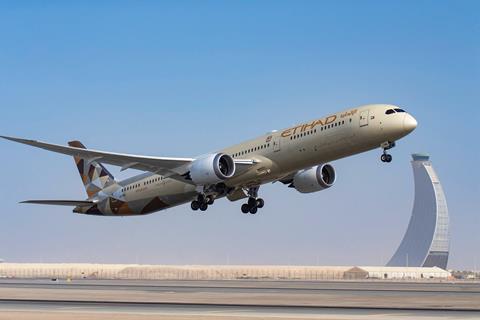 "I think you will observe many aviation commentators and analysts [being] of the view that this illustrates significant progress on that transformation journey," Douglas tells FlightGlobal, as part of wide-ranging interview in Abu Dhabi today.
"In simple terms it's a 41% improvement on 2019 – ie pre-pandemic numbers – and it's a $1 billion improvement on EBITDA."
Douglas has overseen a major restructuring of the carrier since taking the helm in late 2017, after losses spiralled when the group's ambitious equity-alliance strategy unwound. He says the original target before the pandemic was for a return to the black in 2023.
"In some ways we are probably now ahead of schedule of what was the original plan," he says. "We are on for 2023; I'd like to think it [will be] earlier in 2023 [rather] than later in it.
"I think the EBITDA number in particular – EBITDA is a proxy for future free cash-flow and to have a $1 billion swing to a positive in the mid-$400 [millions] – is something that gives us confidence that we can deliver on that ambition."
He believes that the restructuring already under way at the carrier has helped it tackle the negative impact of the pandemic. "Shedding quite a lot of the mass we had historically means we are a lot more agile than we were in the past, and as a result of this, I think these results speak for themselves," he says.
Cargo activities generated revenues of $1.7 billion during 2021, accounting for more than half the group's $3.1 billion revenues for the year.
"Cargo has been a life-saver – for all of us, not just Etihad," says Douglas "Our cargo performance in 2021 was a 73% increase and the market not only continued to see growth in yield, but also in volume."
He describes the airline's passenger business performance in 2021 as a "game of two halves". Etihad carried 1 million passengers over the first half. This jumped to 2.5 million over the second half of the year.
"[We] had load factors in Q1 at 25%, Q2 early 30s," Douglas says, noting demand picked up around September as travel restrictions in the UAE began easing. "We ended up with the load factors [around] 70% quite quickly."
Douglas says momentum in passenger bookings has continued so far this year, as other key markets – for example Australia – have begun to reopen. Abu Dhabi also at the end of February further eased restrictions for vaccinated travellers.
"It has all started to normalise out a bit now," he says. "Fingers crossed [with Covid] there is nothing that is going to follow that is going to have the sort of impact we saw last year. I think there is optimism around."
Likewise he is upbeat on continued strong cargo demand. "Most of the analysts are of the opinion that cargo yields will stay up for at least another year and I don't see any easing off in volumes." Douglas says.
However, he does flag concerns over the potential of the Ukraine conflict to impact the wider aviation sector. Notably oil prices have jumped further since the Russian invasion of Ukraine and the barrel price of Brent crude oil has now passed the $100 mark for the first time since 2014.