Etihad Airways is to divest a number of aviation support service units, including its engineering division, to Abu Dhabi holding company ADQ as part of its focus on core airline operations.
Holding company ADQ, which already has airports operator Abu Dhabi Airports among a wide-ranging portfolio of interests, is to establish a new aviation unit after taking on the Etihad assets.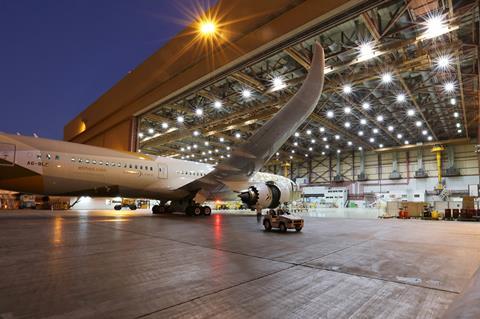 Under the plan, ADQ would take on Etihad Engineering, Etihad Airport Services Cargo, Etihad Airport Services Ground, Etihad Aviation Training, Etihad Secure Logistics and Etihad Technical Training.
ADQ chief executive Mohamed Hassan Alsuwaidi says: "With the proposed addition of Etihad's experienced aviation support businesses to our new dedicated aviation company, ADQ is primed to develop an integrated aviation platform that is driven by performance and a robust financial foundation through its new company.
"We see potential to capitalise on growth opportunities, attract a wider client base of airlines and drive the future expansion of Abu Dhabi's aviation sector."
The airline is also proposing to divest its Etihad Airport Services Catering and Etihad Holidays businesses to the Abu Dhabi National Exhibition Company.
Etihad Aviation Group chief executive Tony Douglas says: "The past two years have changed the face of aviation and the proposed agreement marks a significant milestone in how we are repositioning Etihad Airways and our subsidiaries for long-term success. This agreement will allow us to place 100% of our focus on Etihad Airways to capitalise on recovering travel demand.
"We are working closely with ADQ to ensure the transition is as smooth as possible," he adds.
In announcing the transaction, Abu Dhabi's government says the divested business will remain "key long-term strategic partners" to Etihad.
No terms for the transaction were disclosed.