KLM's €3.4 billion ($3.8 billion) state-support package has been approved by the European Commission.
It comprises a 90% state-guaranteed five-year revolving credit facility of €2.4 billion, granted by 11 banks, and a direct state loan of €1 billion. The state loan has a maturity of five-and-a-half years.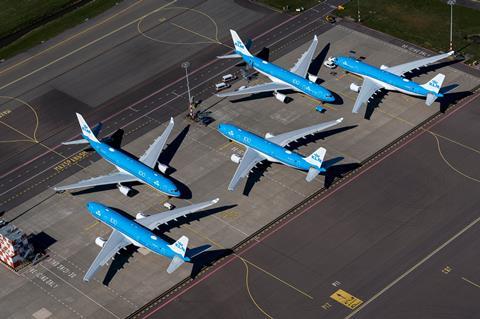 The financing "will provide KLM with the liquidity that it urgently needs to withstand the impact of the coronavirus outbreak", states EU competition chief Margrethe Vestager. It is "very good" that the Dutch government "imposed certain conditions on the aid measure with respect to profit allocation, working conditions and sustainability", she adds.
In setting out conditions of the support package in June, the Dutch finance ministry said KLM must cut costs by 15%, reduce the number of night flights and "make an active contribution to sustainability".
The green light for KLM's financing follows approval by the Commission in May of a €7 billion support package from the French government for KLM's sister carrier, Air France, comprising €4 billion in 90% state-backed loan guarantees and a €3 billion shareholder loan. Air France's aid also came with environmental conditions attached.
EU regulators have also recently approved state support packages for airlines including Lufthansa, Austrian and TAP Air Portugal.