Stakeholders from the airline, airport and aerospace industries have welcomed the so-called 'Toulouse Declaration' on sustainability that was signed during a meeting of EU transport ministers today.
In an initiative launched by the French presidency of the EU, the declaration recognises the need for public-private partnerships in achieving a sustainable and decarbonised aviation sector. It was signed by more than 35 European countries and 146 industry stakeholder groups in Toulouse.
Stakeholders described the public-private nature of the declaration as an important breakthrough that better positions the region to make progress on the issue.
"For the first time, we are seeing the emergence of a common base, which unites and commits both public authorities and representatives of the entire aviation ecosystem towards a common vision," says European transport commissioner Adina Valean.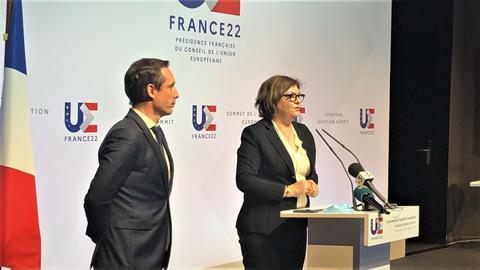 The declaration is ultimately intended to align public and private stakeholders on the broad principles and actions needed for aviation to reach net-zero CO2 emissions by 2050.
With that goal in mind, signatories have acknowledged "the essential role of aviation in ensuring and improving connectivity", alongside a "need for immediate action to support and incentivise decarbonisation of aviation".
Welcoming the declaration, European industry heavyweights Airbus, Air France-KLM, ATR, Dassault Aviation, Groupe ADP, Safran and Thales joined forces to urge the Commission to "implement the launch of industrial alliances that will be critical to align the entire ecosystem around this joint ambition, particularly the Renewable and Low-Carbon Fuels Value Chain Industrial Alliance, the Alliance for Zero Emission Aviation and the European Raw Materials Alliance".
Elsewhere, the partners behind the Destination 2050 roadmap – Airlines For Europe (A4E), ACI Europe, the AeroSpace and Defence Industries Association of Europe, the Civil Air Navigation Services Organization and the European Regions Airline Association – called on the Commission and EU states to develop and support an "EU Pact for Aviation Decarbonisation". Under that pact, signatories would commit "to a structured dialogue with industry to review and complement the 'Fit for 55' legislative package with concrete and timely supportive measures".
Many stakeholders called for the commitments made in Europe today to be repeated globally, aiding the adoption of new long-term sustainability targets at the next ICAO assembly.