ExpressJet, which recently rebranded its operation as Aha, has filed for bankruptcy protection in US federal court and ceased flight operations.
Based in Reno, Nevada, Aha – which the company said stood for "air-hotel-adventure" – launched late last year, and served 12 western US cities with four Embraer 145 regional jets. It also provided charter flights.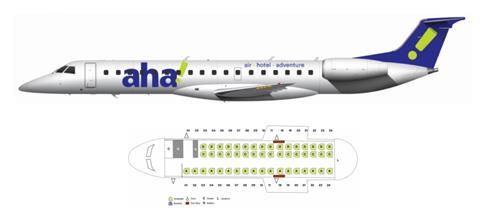 "A combination of conditions led us to this decision," chief executive Subodh Karnik said on 23 August. "Despite the valiant efforts of our employees to overcome challenges, and despite great support by our cities and airports – especially Reno-Tahoe and the community there – we arrived at a point where termination of operations was in the best interest of our stakeholders."
The company attributes the move to high fuel prices, reduced revenue and effects of Covid-19 variants in recent months. Additionally, growth was hampered by "lack of availability of aircraft and the inability to swiftly establish passenger servicing infrastructure in smaller airports", the carrier adds.
Aha was a new manifestation of Expressjet, which previously flew regional flights for Delta Air Lines and United Airlines. At its peak, ExpressJet operated more than 450 aircraft. Prior to the start of the Covid-19 pandemic, Expressjet was operating only for United as United Express, operating ERJ-145s.
But early in the pandemic, United said it was shifting all ERJ-145 flying under another partner, Cleveland, Ohio-based CommutAir. That left Expressjet without a major airline customer.
ExpressJet ceased operations in September 2020. It then applied to the US Department of Transportation for approval to start the new Aha operation, which launched flights in October 2021.
Few US regional carriers have had long-term success as standalone businesses, though several tried. Those include now-defunct Atlantic Coast Airlines, which operated flights for Delta and United before breaking those ties and launching its own operation – Independence Air – in 2004.
Independence Air operated high-seat-cost Bombardier CRJ200s, offered rock-bottom fares and faced intense competition at Washington's Dulles International airport from United. Independence went out of business in early 2006. Another, Mesa Airlines, operated a subsidiary in Hawaii called Go until 2014.
Expressjet filed for bankruptcy protection in US Bankruptcy Court for the District of Delaware.