ExpressJet Airlines will shutter operations at the end of next month after passenger demand sharply declined due to the coronavirus, and United Airlines decided to consolidate its regional flying with another carrier.
Atlanta-based ExpressJet, which flies exclusively on behalf of United as United Express, says on 24 August that it will cease operations on 30 September and lay off most of its workforce. The company has no other airline customers. The 30 September date also coincides with the day that the US government's financial assistance for airlines ends.
"On July 30, United Airlines selected CommutAir as its sole ERJ-145 operator, and asked ExpressJet Airlines to wind-down flying as a United Express regional carrier," the airline says. "Due to the uncertainty of airline passenger travel as a result of the continuing pandemic, all ExpressJet flying for United Airlines will end on September 30, 2020."
"In addition, with the termination of the CARES Act payroll support funding at that time, ExpressJet also will terminate or furlough most of its workforce on September 30, 2020, other than limited staff needed in connection with the wind-down of operations and the review of future business opportunities," the airline says.
Faye Malarkey Black, president and chief executive of the Regional Airline Association (RAA), blasted lawmakers for not addressing airline payroll protections, saying that the administration and Congress have left "a giant question mark hovering over whether or not the payroll support programme would be extended as the pandemic rages on and demand remains enormously depressed".
United had said at the end of July that it will consolidate its regional flying to just one carrier, Cleveland, Ohio-based CommutAir after demand remained sluggish. Both CommutAir and ExpressJet flew Embraer ERJ-145s for the Chicago-based mainline carrier as United Express.
Last February, United had ended its relationship with Trans States Airlines, another United regional affiliate that operated the type, which shut down completely shortly thereafter. At the time, United had said it had made a "long-term" commitment to ExpressJet.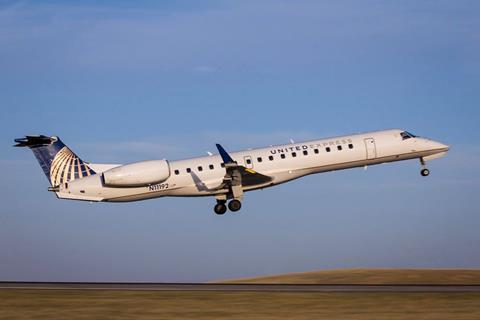 Also in February, ExpressJet disclosed plans to add 36 50-seat ERJ-145s to its fleet, and that it would divest of all of its larger E175s, becoming the world's largest ERJ-145-only carrier, with more than 130 aircraft in its fleet.
ExpressJet is the third US regional airline to fold since the beginning of the coronavirus crisis in the air transport industry, following Trans States and Compass Airlines, which closed in April.
Prior to the pandemic, ExpressJet served more than 100 destinations in the USA, Canada and Mexico, with more than 3,300 weekly flights from bases in Chicago, Houston and Newark. It had about 3,000 employees.
CommutAir serves 50 destinations with about 1,000 weekly flights as United Express, operating 30 ERJ-145 aircraft, according to Cirium fleets data. United owns 40% of CommutAir, according to that carrier.
Earlier this year, the US government stepped in to support the air transport industry in the wake of the global health crisis, putting up almost $60 billion in grants and loans to help keep the industry afloat. In return, the airlines had to commit to no furloughs or lay-offs prior to 1 October.
With that deadline nearing, US airlines have already said they will need to shed almost 80,000 jobs unless the payroll support aid is continued. With lawmakers currently on an extended break for the US Labour Day holiday in early September, that is not likely to happen soon.
"Carriers large and small warned of hundreds of thousands of potential furloughs and what is stunning to me is that anyone would be surprised when exactly what we predicted would happen, has happened, again and again," the RAA's Malarkey Black says. "There is a point of no return for a complex business like an airline when it comes to decisions involving thousands of workers and it will be too late to save jobs if delays continue as they have," she says.
Updated on 24 August to include a statement from the Regional Airline Association (RAA).