US carrier Global Crossing Airlines (GlobalX) has received approval from the Federal Aviation Administration to begin US cargo operations with its Airbus A321F aircraft.
The carrier will launch revenue cargo flights this week, pending final FAA-approved documentation, GlobalX said on 6 February.
"This is a tremendously significant milestone for GlobalX on our path to being one of the leading narrowbody charter operators for both passengers and freight in North America," says Ed Wegel, GlobalX's chief executive. "Our expansion into cargo has always been a key aspect of our growth strategy to diversify our revenue streams and maximise the use of all of our assets."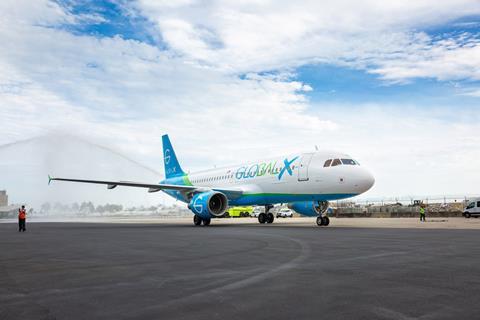 Miami-based GlobalX began passenger flights in August 2021. The company says it now has seven A320s and plans to rapidly expand its cargo fleet.
The carrier has one A321 that has been converted to haul freight by Singapore-headquartered ST Engineering. It expects deliveries of another two A321Fs in the first half of 2023. The airline expects to add three additional A321Fs this year, with two more scheduled for delivery in 2024, as part of its planned expansion in the US, Caribbean, European and Latin American markets.
The carrier is also working to finalise leases on lessor commitments for a further five freighters with an eye on delivery in 2024 or 2025 and is "working on letters of intent for two additional A321F aircraft", the carrier says.
The company believes the A321F is the most efficient available narrowbody freighter, offering greater capacity and lower fuel burn than Boeing's 737-800 and 757-200.
"We are particularly honoured to be the first airline in the Americas to operate the A321F and we believe this aircraft is a game-changer in the narrowbody freighter market," Wegel says.
In September 2022, GlobalX disclosed plans to order 50 of Eviation's in-development electric aircraft, Alice. The carrier intends to make the nine-seat, all-electric aircraft the foundation of an envisioned carbon-neutral charter from Florida to the Bahamas and throughout the Caribbean.
GlobalX expects to receive its first Alice in 2027 and is considering future orders of a model adapted to carry cargo, Eviation has said.