European Commission regulators have approved a €4 billion ($4.7 billion) recapitalisation of Air France that could see the French state more than double its holding in Air France-KLM.
The French government's stake in the group will increase from 14.3% to a maximum of 30% as part of the arrangement, Air France-KLM says.
The Dutch government has confirmed that its holding will be diluted to 9.3%, from 14%.
Dutch flag-carrier KLM supports the recapitalisation measure, the group states, but will not benefit from the €4 billion aid, according to the conditions agreed by the Commission.
"The Dutch state is continuing discussions with the European Commission regarding potential capital-strengthening measures for KLM," adds Air France-KLM.
The measures – approved by the Commission under temporary Covid-19 state aid rules – comprise the conversion of a €3 billion state loan already granted to Air France into a "hybrid capital instrument" and a capital injection by the state through a share capital increase, which is limited to €1 billion.
"These first recapitalisation measures are an important milestone for our group in this exceptionally challenging period," says Air France-KLM chief executive Ben Smith. "They will provide Air France-KLM with greater stability to move forward when recovery starts, as large-scale vaccination progresses around the world and borders re-open."
Shareholder China Eastern Airlines has agreed to take part in the capital increase "as part of further reinforcement of strategical co-operation with the group", Air France-KLM states, but will keep its stake "strictly below 10%".
Delta Air Lines, which holds 8.8% of the share capital in Air France-KLM, will not subscribe to the capital increase "due to the current framework of the CARES act" in the USA, the group says.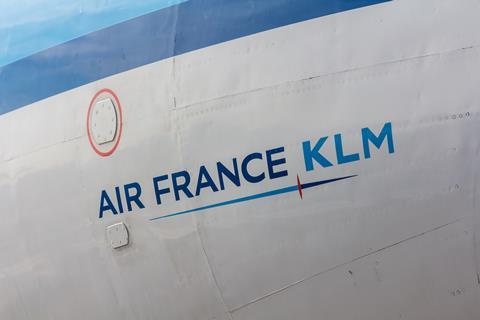 Among other conditions for proceeding with the recapitalisation, the French flag-carrier will be required to give up 18 daily slots at Paris Orly airport – albeit with strict labour conditions on the carriers that can take them on – while the French government has "committed to work out a credible exit strategy within 12 months after the aid is granted", unless its "intervention is reduced below the level of 25% of equity by then".
Additional measures to further strengthen the group's capital are under consideration, Air France-KLM states, with "several" actions likely to be taken before the 2022 annual general meeting.
The €3 billion French government loan was part of wider measures worth €7 billion agreed in April 2020. The €4 billion loan that forms part of that package has been extended with a final maturity date in 2023, Air France-KLM states.
Dutch flag carrier KLM received final approval for state-backed financing of €3.4 billion in November last year. The Dutch state increased its stake in Air France-KLM to 14% in 2019, to almost match that of its French counterpart.