Frontier Group Holdings, parent of Frontier Airlines, reported a profit of $33 million in the third quarter of 2022 – the second consecutive profitable quarter for the Denver-based ultra-low-cost carrier (ULCC).
By comparison, Frontier posted a loss of $24 million in third quarter of 2021, which was impacted by the Delta variant of Covid-19.
Frontier reports third-quarter operating revenue of $906 million, up 44% from $630 million in the three months ending 30 September 2021, the airline says 26 October.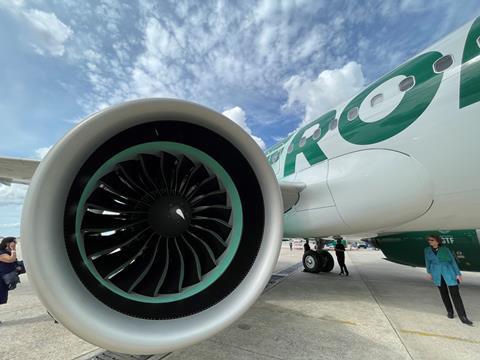 The company also generated a company record of $78 million in ancillary revenue per passenger during the third quarter, 23% more than in 2021.
Barry Biffle, chief executive of Frontier, says strong demand for leisure travel contributed to the profitable quarter, pointing to an internal poll finding that customers are more willing to spend on air travel than they were before the Covid-19 pandemic.
"The results of the survey revealed an inclination to buy more frequently than they had pre-pandemic, with over half of survey respondents indicating that they now have more money and more flexibility to do so," Biffle says during Frontier's third quarter earnings call.
On 11 October, Frontier took delivery of one 240-seat Airbus A321neo – the first of 158 such aircraft scheduled to be delivered through 2029 – and deliveries of two A320neos, bringing its current fleet to 115 aircraft.
Biffle has touted the efficiency of the incoming A321neos, saying they will burn less fuel per seat than any operated by competitors and will be the "greenest airplane ever to fly in the United States".
Frontier holds orders for a further 18 of Airbus's in-development A321XLR, with deliveries expected to begin in 2024, and 51 A320neos. The airline is planning to triple the size of its fleet by the end of the decade.
As of 30 September, Frontier had $674 million in unrestricted cash and cash equivalents, down from $802 million on the same date in 2021.