Frontier Airlines says JetBlue Airways' unsolicited surprise offer to buy ultra-low-cost rival Spirit Airlines will make for higher fares and less competition.
The Denver-based carrier says on 5 April that its bid to buy Florida-headquartered Spirit - announced in February - is a much better deal for both customers and shareholders, even if the JetBlue offer is worth more money.
"A combined Spirit and Frontier will deliver $1 billion in annual savings for consumers and offer even more ultra-low fares to more places nationwide, creating America's most competitive ultra-low fare airline," Frontier says.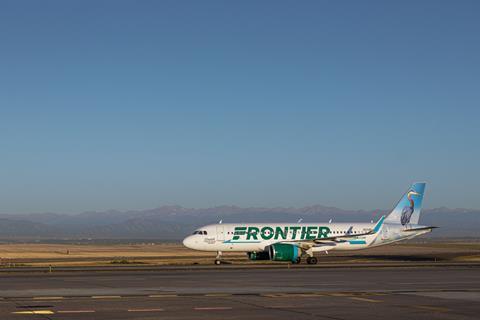 "Unlike the compelling Spirit-Frontier combination, an acquisition of Spirit by JetBlue, a high-fare carrier, would lead to more expensive travel for consumers," the airline continues. "In particular, the significant East Coast overlap between JetBlue and Spirit would reduce competition and limit options for consumers."
Earlier in the day, news leaked that JetBlue had made an unsolicited bid for Spirit worth $3.6 billion, or $33 per share, a significant premium over Frontier's offer in February.
JetBlue confirmed its bid, and Spirit added that it would "work with its financial and legal advisers to evaluate JetBlue's proposal and pursue the course of action it determines to be in the best interests of Spirit and its stockholders."
On 7 February, Spirit and Frontier said they were looking to join forces in a merger that was valued at $6.6 billion and promised combined annual revenue of $5.3 billion based on the carriers' respective 2021 financial results. They said that, once integrated, they would be in a position to offer more than 1,000 daily flights to more than 145 destinations in 19 countries.
They said the deal, which was expected to close in the second half of 2022, would create 10,000 direct jobs by 2026 and deliver annual operating synergies worth up to $500 million.
JetBlue, meanwhile, said earlier on 5 April that its pilots had come to an agreement that ends a year-long dispute over aspects of the carrier's "Northeast Alliance" (NEA) with American Airlines. The pilots, represented by the Air Line Pilots Association (ALPA), had charged that implementation of parts of the NEA violated their contract. Out of nearly 90% of eligible pilots voting, 60% ratified the agreement.
But the NEA is still under a cloud, after the US Department of Justice filed a lawsuit against it last September. The DOJ is seeking to block the tie-up, and had slapped the two carriers with allegations of antitrust violations. It claims the JetBlue-American collaboration is stifling competition in New York and Boston, the NEA's focus cities.
"It is surprising that JetBlue would consider such a merger at this time given that the Department of Justice is currently suing to block their pending alliance with American Airlines," Frontier adds.