Air France-KLM's full-year operating profits slipped nearly a fifth in 2019 as higher fuel costs and a deteriorating cargo market hit its performance.
The SkyTeam carrier group posted an operating profit of €1.14 billion ($1.23 billion), down 18.8% on the 2018 figure. Net profit fell €130 million to €290 million for 2019.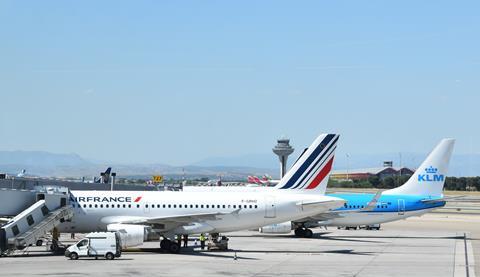 While group revenue climbed 3.3% to reach €27.2 billion, it cites higher fuel costs as impacting its bottom line in 2019. The group's fuel bill increased around 10% to €5.5 billion during the year.
Air France-KLM also cites the challenging cargo market as dragging profits down. "Fourth quarter 2019 unit revenue remained under strong pressure and was down 17.1% compared to last year at constant currency," it says, though it adds that the impact on results was partly mitigated by effective cost-control measures.
The group points to a strong performance at leisure unit Transavia and its maintenance arm during the year. Unit revenues were increased 10% at Transavia, helping lift its passenger revenues 9%. The carrier posted an operating profit of €131 million, down €14 million on the 2018 figure. Group maintenance profits climbed €46 million to €260 million.
KLM continues to deliver the bulk of overall group profits. The Dutch carrier contributed €853 million to the group operating profits in 2019 – though this represented a fall of €238 million on the previous year. Air France delivered a full-year operating profit of €280 million, down €41 million on the 2018 figure. These respective figures incorporate Transavia and the maintenance division contributions.
In early guidance for 2020, Air France-KLM points to the impact the coronavirus outbreak is likely to have on its financial performance, after the carrier suspended China services. It an estimates a likely hit of between €150 million and €200 million during the February-April timeframe.