IAG chief executive Luis Gallego expects completion of the group's planned acquisition of Spanish carrier Air Europe to be nearer to year-end, having set a second-half target to close the delayed deal.
The Iberia and Vueling parent had originally struck an agreement in 2019 to acquire Air Europa before the coronavirus crisis hit the proposed purchase. A revised deal, under which the acquisition price was halved to €500 million, was reached in January.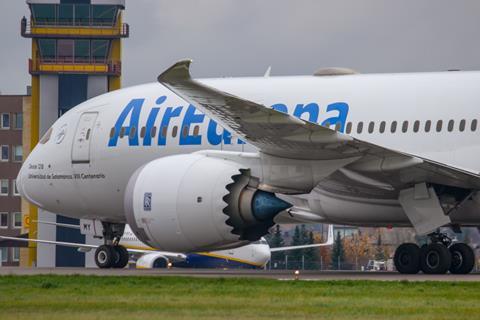 But completion remains conditional on "satisfactory negotiations" between Iberia and Spanish state-owned holding company SEPI over non-financial terms related to a six-year €475 million state-backed loan AIr Europa secured in November to navigate it through the crisis. Spanish media have previously reported it relates to SEPI's right to board representation at Air Europa.
Presenting IAG's full-year results today, Gallego said: "Air Europa had support from the government and that support had a bad condition. So first of all we need to negotiate with the Spanish government these bad conditions because we need to have the freedom to manage the company. After that agreement we hope we can reach, we will need competition approval.
"All this process is expected by the second half of the year, I think its going to be more closer to the end of the year than the beginning of the second half."
Gallego highlights the role Air Europa can play in retaining its connectivity with Latin America, which has been hit by former IAG partner LATAM quitting the Oneworld alliance last year after reaching a new strategic agreement with SkyTeam member Delta Air Lines.
"Air Europa is important to maintain the proposition we have to our customers between Europe and South America," he says. "We consider that this deal is going to give us the possibility to be a stronger in that market with a better proposal in terms of network. I think we will have more opportunities and that the map of the future of Latin America is not going to be the same map we had in 2019."