Embattled Garuda Indonesia plunged deeper in the red despite trimming costs, amid doubt over its ability to continue as a going concern.
The flag carrier posted an operating loss of $1.35 billion for the nine months to 30 September, compared to the $1.05 billion loss during the same period in 2020.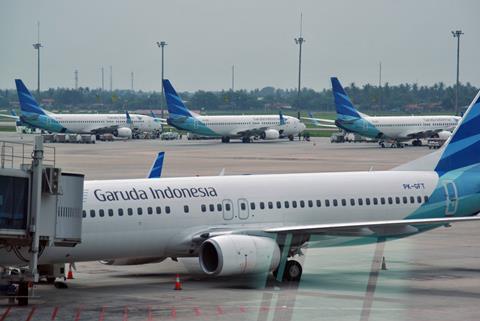 Group revenue fell 17.5% year on year to $939 million, as several parts of the country was locked down in the middle of the year amid a spike in coronavirus infections.
As for expenses, Garuda saw a 11.8% year-on-year decline to $1.98 billion. The airline managed to trim costs relating to flight operations, as well as general and administrative expenses, though maintenance and repair costs saw a slight uptick.
Garuda also widened its nine-month net loss, at $1.7 billion against $1.1 billion in 2020.
It ended the period with lower cash and cash equivalents compared to the start of the year, at around $40 million compared to $199 million.
Garuda, which is undergoing a long-drawn restructuring process, reiterated warnings of the "major adverse impact" of the pandemic on its survivability.
Current liabilities exceed assets by a staggering $4.7 billion, while its equity deficiency was around $2.8 billion.
"The group has not been able to meet its financial obligations to the banks, significant vendors… and aircraft lessors.
"All of the above conditions indicate the existence of material uncertainties which may cast significant doubt about the group's ability to continue as a going concern," it adds.
To this end, Garuda says it is continuing work to relieve "liquidity pressure", including negotiating with its creditors and lessors about payment terms, as well as "positive rationalisation" of its staff numbers.
"The cash flow projections cover a period of not less than twelve months from 30 September 2021 and have been extended for a period of not less than twelve months from the authorisation date of the consolidated financial statements," adds Garuda.