The sale of some of its slots at London Gatwick airport together with ongoing benefits from its restructuring and improved travel demand helped Norwegian post a small pre-tax profit for the fourth quarter and return to the black for the full year.
The restructured low-cost carrier posted an EBITDAR of NKr114 million ($13 million) for the fourth quarter, helped by one-off gains of NKr201 million. They includes gains from the sale of some of its slots at Gatwick airport. In December low-cost rival Wizz Air disclosed it had acquired 15 daily slots at the London airport from Norwegian.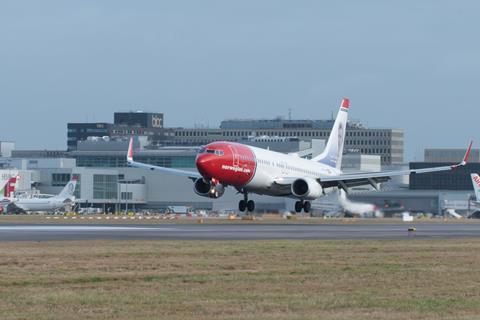 Speaking during a full-year results briefing today, Norwegian chief executive Geir Karlsen says: "Sometimes legacy is a positive and I am very happy we were able to sell the slots we are not planning to use. We still have all the slots that we need going forward at London Gatwick."
While Norwegian posted an operating loss at an EBIT level for the fourth quarter of NKr263 million, further one-off gains of NKr370 million – that Karlsen says includes "the last parts of the restructuring effects" – helped the carrier record a pre-tax profit of NKr117 million for the quarter.
Restructuring efforts also drove Norwegian's full-year pre-tax profit of NKr1.88 billion. That is a marked improvement on a loss of NKr22.1 billion in 2020.
"It's good to close the chapter on 2021," says Karlsen. "I think we came out of 2021 in a relatively good way.
"I think we have been doing pretty well in preserving liquidity and we have done that in fourth quarter as well. So we were actually able to generate cash in the fourth quarter."
Alongside the one-off gains, Norwegian also benefited from a pick-up in demand in the fourth quarter – at least until the Omicron variant emerged. Norwegian carried 3.1 million passengers between October and December, accounting for just over half the total it flew in 2021.
"We saw a pretty solid ramp-up in bookings, especially for October," says Karlsen. "So we made money in October, then we went into the November traditional low season, and sales came down a bit and then with Omicron coming against us we saw a dramatic drop."
The airline cut its planned capacity as a result of the Omicron hit to demand – operating around 40-45 of the 51 aircraft in its fleet during the fourth quarter – and has been aided by power-by-the-hour deals struck with its lessors.
"We have taken a huge benefit of the power-by-the-hour agreement we negotiated last year," says Karlsen. "For 2021 we had a saving in lease costs in the area of $40-45 million and these savings will continue into the first quarter as well."
While Norwegian has continued to operate reduced capacity during the first quarter, Karlsen flags strong demand for the summer season – even more so since an easing in travel restrictions in its core Scandinavian markets.
"The bookings are looking very promising," he says. "The first quarter will be a challenge, as it will be for most of the guys around. We are still working on preserving the liquidity. We are seeing passengers are starting to book more forward, yields are starting to go up and we have a very clear plan for how we are going to do this in the summer."
That includes the addition of 19 aircraft to the fleet in the summer – 17 Boeing 737-800s and a pair of 737 Max 8s. That will take Norwegian's fleet to 70.
"We know looking at [our] cost level we are not happy with it, but it is a bit of a challenge when you are running at 60-65% of capacity to take the costs down as well. But I think you will see the results of the work we are doing in the high season," Karlsen says.
"We need to be as competitive as we can. We need to be prepared to meet whoever decides to come into the markets we are flying," he says. "We are not there yet, but we are not very far away either."