Brazilian airline Gol expects sales to pick up as a second wave of coronavirus infections recedes, prompting customers to book more trips.
Normalisation of demand is within reach despite a 50% year-on-year decline in sales during the first three months of the year, executives say during the Sao Paulo-headquartered company's first-quarter earnings call on 29 April.
The company reports first-quarter revenue of R$1.6 billion ($299 million), down from R$3.1 billion a year ago. Its quarterly loss was R$892 million.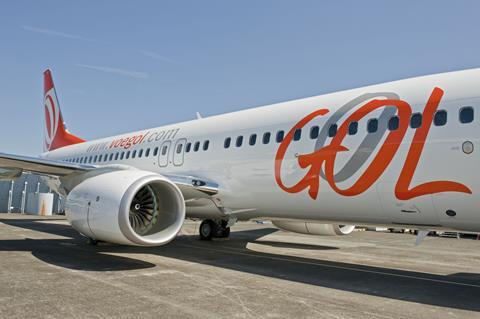 "Since the beginning of the pandemic, the company has maintained the necessary agility to adjust its supply according to fluctuations in demand, and it remains to be a differentiator for us," says Gol chief executive Paulo Kakinoff. As cases decline, "GOL has seen a corresponding resumption in ticket sales over the last few weeks".
A sharp reduction in demand was precipitated by a spike in Covid-19 cases. "Pressure on the hospital network… impacted the increase in the number of cancellations and no-shows", the carrier says.
During the first three months of the year, Gol carried 4.5 million customers, 46% fewer than in the first-quarter of 2020, when the coronavirus pandemic began impacting the globe.
In the first quarter, the airline served 159 markets and operated an average of 364 flights daily – about 53% of its daily flights during the first quarter one year ago.
GOL ended the quarter with 127 aircraft in its all-Boeing 737 fleet. The firm's eight Max and 77 other aircraft were in operation, a reduction of 13 aircraft compared to the end of December 2020.
In the second quarter, Gol expects to operate 63 aircraft, 14 fewer than in the first quarter but about four times the number it operated in the second quarter in 2020.
Mass vaccination will be integral to a meaningful rebound in demand across Brazil, Kakinoff says.
"Based on the experience of airlines in the United States and United Kingdom, countries that are more advanced than Brazil in the roll-out of vaccines, we expect the national programme for immunisation to positively impact on the normalisation of demand for air travel in Brazil," he adds.
CARBON-NEUTRAL AIRLINE
Earlier this week, the Brazilian airline announced plans to become carbon-neutral by 2050, making it the first carrier in Latin America to make such a commitment.
"This is a key component in combating the effects of the pandemic and is a strategic driver for perpetuity and growth of the business going forward," Kakinoff says.