Corporate travellers returning to air transport in greater numbers and expansion of regional markets helped support Brazilian airline Gol's jump in total revenue during the second quarter of 2022.
The Sao Paulo-based airline reported revenue of R$3.2 billion ($610 million) in the three months ending on 30 June, more than three times that in the same quarter one year ago and 3% more than in the same period of pre-pandemic 2019.
Still, Gol lost R$2.8 billion in the second quarter, primarily due to negative effects from foreign exchange rates and "monetary variations", the airline said on 28 July.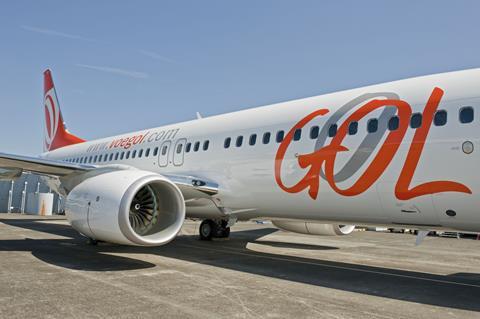 "The company's second-quarter results demonstrate the consistent recovery in a quarter historically characterised by low seasonality in the Brazilian airline industry," the company says.
"New demand trends are emerging in the post-pandemic recovery," chief executive Celso Ferrer adds.
Business travellers returned in greater numbers during the quarter, peaking at 90% of pre-pandemic levels in April, executives say. The figures for the more-lucrative segment have stabilised at between 60-65% in June, and the company expects a small increase in August and September.
"We don't expect Covid to be hitting us in the third and fourth quarter," Ferrer adds.
In addition, Gol expanded on regional routes that had been suspended or curtailed during the pandemic. It also reinstated international service to the United States, Argentina, Paraguay and Bolivia.
NEW CEO
The earnings report, which covered the period between April and June, was the first with new CEO Ferrer. He ascended to the role last month, succeeding long-time chief Paulo Kakinoff.
"I took on the role of CEO with the commitment to focus on three main pillars: growth, consistency and proximity," Ferrer says, adding he will target "costs and productivity."
Ferrer aims to boost aircraft utilisation "at least 10%" in 2023, and to advance the company's digital transformation, he adds. "It's time to leverage the digital transformation to reduce costs and also [increase] productivity at the airport, and in all the customer-facing environments across the company."
Gol received three new Boeing 737 Max 8s during the second quarter and expects to end the year with 44 of the type, which will then account for 33% of its all-737 fleet.
The airline plans to end 2022 with 92 737NGs, including three newly converted freighters. The first of those freighters will begin flying cargo flights in August, and Gol says the three freighters will generated about R$100 million in additional revenue.
"We are confident that the increase in operating fleet utilisation, which generated 27.5% productivity gains this quarter, combined with the fuel savings from the new-generation 737 Max aircraft will enable us to expand our leadership in unit costs and maintain disciplined growth," Ferrer adds.
Gol expects to have 136 aircraft at the end 2022 and 139 at the of 2023. The company is returning older-generation 737NGs and taking newer 737 Max.