American Airlines achieved a profit of $19 million in the second quarter of the year as the airline ramps up its operations in the face of dramatically increased leisure demand.
The Fort Worth-based carrier told analysts on 22 July that it is "in the midst of an unprecedented recovery".
Excluding sector-specific government aid, the airline would have posted a $1.1 billion loss during the three months ended 30 June. But despite that underlying figure, the carrier's management are upbeat.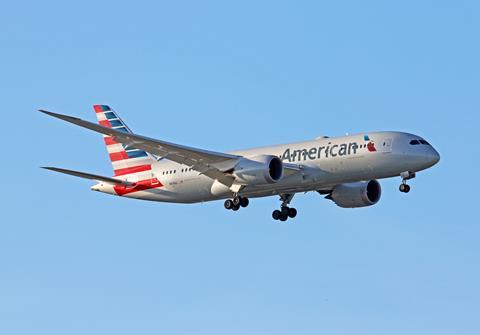 "This loss, while large, is the smallest we had since the start of the pandemic," says chief executive Doug Parker. "We expect our losses to narrow even more in the third quarter as we march back to sustained profitability."
June was the first profitble month for the carrier since December 2019, he adds.
Revenue in the quarter reached $7.5 billion, up from $1.1 billion in the year-ago quarter, the worst of the crisis for most airlines. But while that is 80% higher than in the first three months of this year, revenue is still 38% down on the $12 billion the airline posted in the second quarter of 2019.
"We have taken a number of steps to solidify our business through our Green Flag Plan and it shows in our second-quarter results," says Parker. "We have reshaped our network, simplified our fleet and made our cost structure more efficient, all to create an airline that will outperform competitors and deliver for customers."
American also says the second quarter was the first three-month period since 2019 during which it did not burn cash. The carrier actually built up cash reserves in the quarter, to the tune of about $1 million daily.
"We've come a long way from our peak cash burn of $100 million a day early in the pandemic," says chief financial officer Derek Kerr.
The airline said earlier this week that it ended the quarter with "more than $21 billion" in total available liquidity, about $1.3 billion more than prior guidance, and "by far the highest in American's history", executives say.
The airline is targeting $10-12 billion in liquidity in 2022.
For the third quarter, American expects its capacity to be 15-20% lower than the same quarter in 2019. Total revenue will be about 20% lower than during that quarter two years ago, prior to the global health crisis.
'FULL' BUSINESS RECOVERY IN 2022
The airline is optimistic that the more-than-year-long trough in business travel has been overcome. American's president Robert Isom says that half of the airline's corporate accounts have lifted all travel restrictions, and employees are returning to offices.
"We now expect a full business travel recovery in 2022," he says. Later, he clarifies to say this expectations refers to domestic business travel, with a long-haul international business travel rebound "still a ways off".
"We are very much encouraged at what we see, we think that traffic will continue to recover and as markets reopen, as companies return to work, shortly thereafter business travel comes back, especially short-haul," adds chief revenue officer Vasu Raja.
Long-haul international travel continues to be a problem for most major airlines, due to ongoing travel restrictions in many parts of the world following a slower vaccine roll-out.
That said, "we see quick and dramatic increase in bookings" whenever restrictions in particular countries are lifted, Isom says.
ALLIANCES
The airline says it is "really encouraged" by the early results it is seeing from its two new domestic alliances – with JetBlue Airways in the northeast USA and Alaska Airlines in the west.
Earlier this week, American and JetBlue said they had launched the next phase of their so-called Northeast Alliance, together offering more than 700 daily flights from Boston and New York.
JetBlue said it would be expanding capacity from the New York metropolitan area's LaGuardia airport to 35 daily departures by the end of the year and up to 50 per day by summer 2022, and announced new routes to some cities it had not serviced before as well as expansion of capacity to others.
The alliances are designed to allow American to "do things it can't do on its own", Raja adds.