European regulators have approved Greek plans to contribute €120 million ($146 million) as part of recapitalisation plans for Aegean Airlines.
Greece notified the European Commission of plans for an aid measure to compensate Aegean for damage suffered from travel restrictions imposed between 23 March 2020 to 30 June 2020. The support will take the form of a €120 million direct grant.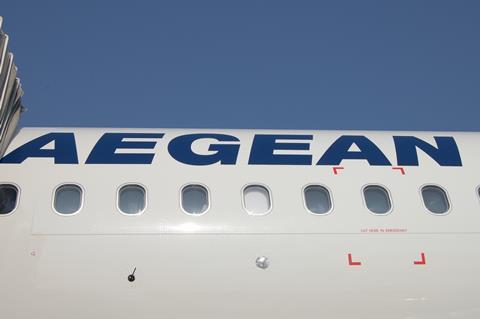 European competition commissioner Margrethe Vestager says: "The aviation industry is one of the sectors that has been hit particularly hard by the coronavirus outbreak. This measure will enable Greece to compensate Aegean Airlines for the damage directly suffered due to the travel restrictions necessary to limit the spread of the coronavirus."
The Greek state contribution is part of a wider investment plan, detailed a month ago, which is conditional on Aegean successfully effecting a private investor share capital increase of €60 million.
Aegean adds: "Following today's approval by the European Commission, the company plans to undertake all necessary corporate actions and submissions to the Capital Market Commission in the upcoming period, with the aim being to complete all necessary procedures within the first three to four months of 2021."
Today's approval marks the latest in a series of state contributions to airlines approved by the European Commission under a temporary easing of its state aid rules to take into account the impact on air travel from the closing of national borders during the pandemic. Yesterday it cleared a €650 million of aid by the Polish state into LOT Polish Airlines.
"We continue working with member states to find workable solutions to support companies in these difficult times, in line with EU rules," says Vestager.