Greece is set to provide up to €120 million ($142 million) in state support for Aegean Airlines as part of a wider capital increase for the Greek carrier.
In a briefing today, a spokesman for the Greek government says the move is part of a plan to strengthen the country's largest carrier and is in line with similar state support measures provided by other European governments during the crisis. It also notes the move secures further private funding for the carrier's capital increase.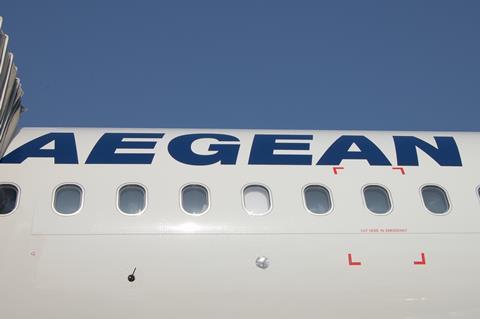 "The Greek state will receive special options (type warrants), for the purchase of shares of the company, which it will be entitled to exercise under specific conditions and for a certain period of time. It is noted that the total amount of state support is expected to reach €120 million," the spokesman says.
"In addition, private participation is foreseen at half of the state aid, ie €60 million… which will come from the shareholders of Aegean."
The government spokesman says the state support is already being evaluated to ensure formal approval by the European Commission authorities.
European regulators have eased existing state aid rules to allow for increased government support of companies through the pandemic.
Aegean Airlines will announce its nine-month trading update on 24 November. The airline posted a net loss of €158 million for the first half on revenues down 64% as the pandemic hit.