Former Swoop chief executive Steven Greenway is to take up the same role at Romanian low-cost carrier Blue Air from the start of March, with incumbent Oana Petrescu remaining as president of the airline.
Greenway, formerly chief commercial officer at SIA Group budget carrier Scoot before joining WestJet low-cost arm Swoop in 2018 ahead of its launch, has been working with the Romanian carrier in recent months.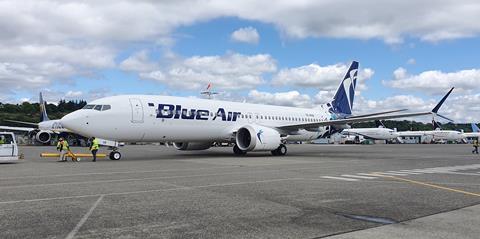 Petrescu, who has served as chief executive for almost three years, says: "During the last six months Steven has been an essential part of our team of experts that supported us to put together the last touches of our ambition to become a major low-cost player in Europe, the company's post-pandemic recovery plan and the strategy for financing this plan.
"Steven has over 25 years of experience in the low-cost aviation industry, with key roles in Europe, as well as in the United States, Australia and Canada. He has an impressive track record in delivering the best customer experience and financial results for low-cost airlines, and an integrated vision of the future of low-cost aviation."
Blue Air, which expects to return to pre-pandemic activity levels by June, has since the pandemic notably expanded into major hubs in Europe including Amsterdam Schiphol, London Heathrow and Paris Charles de Gualle. It also accelerated fleet renewal plans after taking delivery of Boeing 737 Max 8s. Cirium fleets data shows it operates five Max jets with a further five on order.
Greenway says: "I look forward to joining the Blue Air team starting 1 March and continuing the turnaround plan.
"At this point, Blue Air has all the necessary ingredients for success: an incredibly passionate and professional team, a new fuel-efficient fleet of 737 Max 8 aircraft being introduced, continuing investment in IT and a great network of convenient airports and high-demanded destinations. We expect a robust performance starting this summer."
Greenway has previously held roles with airlines including Qantas, SkyEurope, Virgin Atlantic, Virgin Blue and WestJet, in addition to Swoop and Scoot.