China's ongoing battle with a resurgent wave of coronavirus infections has sent domestic traffic into free fall, with the country's three largest carriers reporting a second consecutive month of traffic decline in April.
The 'Big Three' – comprising Air China, China Eastern Airlines and China Southern Airlines – saw domestic traffic collapse to its lowest levels in more than two years of the pandemic.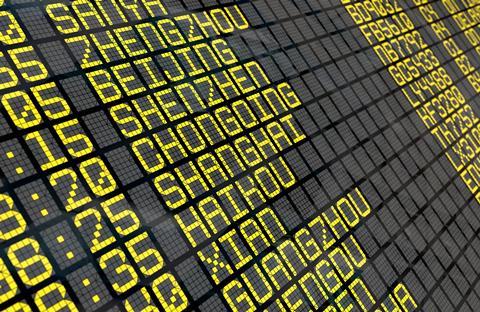 Among the 'Big Three', China Eastern was worst-hit, as its Shanghai hub is the subject of a long-drawn lockdown.
Describing the local pandemic situation as "grim", the SkyTeam carrier reported a 91% plunge in domestic passenger numbers in April to just 853,000 passengers. Against March, the figure is a 66% decline.
It is also the lowest ever passenger number in more than two years of the pandemic. By comparison, the carrier flew around 1 million passengers in February 2020, at the onset of the pandemic when cities in China were also put under lockdown.
China Eastern's domestic RPKs were down 90% from a year ago, while capacity shrank 88% year on year.
Compatriot Air China, meanwhile, carried 1.3 million domestic passengers in April, an 84% decline year on year, and 41% lower compared to March. The figure is only slightly higher than the 1.26 million passengers in February 2020.
The Beijing-based carrier saw traffic plunge 85% year on year, while capacity was down 79%. Compared to March, traffic and capacity fell 42% and 36% respectively.
As for China Southern, it carried around 2.2 million passengers in April, 84% lower year on year, and 46% lower compared to March.
It is the lowest passenger numbers since February 2020, when it flew just 1.4 million passengers.
The carrier, which is China's largest, reported a 82% drop in domestic RPKs, with capacity plunging 75% year on year. Compared to March, China Southern's domestic traffic and capacity fell 46% and 38% respectively.
China, which previously claimed control over its domestic Covid-19 situation, has in recent months witnessed a record spike in infections, thanks to the more infectious Omicron variant. Several major cities across China, including Shanghai and Beijing, are either in lockdown, or placed under strict movement curbs.
China's 'Big Three' continued their loss-making streak in the three months to 31 March, as domestic travel demand collapsed amid the Omicron wave.