Hainan Airlines Holdings has gained the crucial green light from a local court for its restructuring plan, which will see it merge with 11 smaller airlines into a single carrier.
In giving its approval, the Hainan High People's Court ruled on 31 October that restructuring "complies with…the principle of maximising creditors' interests" and was a "feasible" option.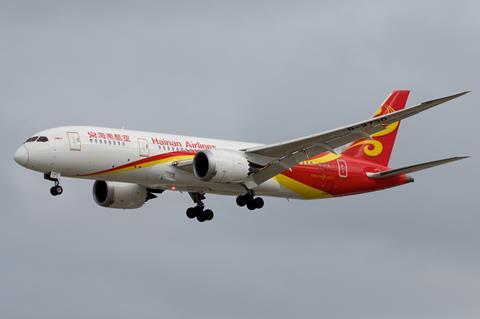 The airlines approved to merge comprise flagship Hainan Airlines, as well as smaller units such as Fuzhou Airlines, Lucky Air, Air Changan, as well as Guangxi Beibu Gulf Airlines.
The merger of the 11 entities into one carrier was first floated in September after a "comprehensive investigation" into parent conglomerate HNA Group and its wide-ranging and often-murky corporate structure.
Restructuring managers found that the connected transactions between the 11 carriers were "complex", and that the creditors were seeking large amounts of claims. Previous reports indicate that the airlines owe close to CNY400 billion ($82 billion) to more than 4,900 creditors, according to the filing.
Hainan Airlines, China's fourth largest carrier, posted a CNY2.56 billion net loss for the three months to 30 September, as revenue grew 10% year on year to nearly CNY9 billion.
News of the court approval comes a week after HNA Group creditors voted to greenlight four plans relating to restructuring, including Hainan Airlines Holdings' plan to merge with 10 other sister carriers.
HNA Group received formal notice in late-January that creditors had filed for its bankruptcy, on grounds that it was unable to pay off its debts.
The group was already struggling as early as 2018, when it was reported that it was facing a liquidity crunch and mired in debt. The coronavirus outbreak dealt the HNA Group a further blow and by February 2020 it threw in the towel, seeking help from the Hainan provincial government.