Hainan Airlines swung back to profitability in 2021, but began the new year posting a steep operating loss as China's pandemic-related curbs impacted travel demand.
For the year to 31 December 2021, the carrier posted an operating profit of CNY3.5 billion ($530 million) - a significant improvement from the record CNY71.6 billion operating loss in 2020.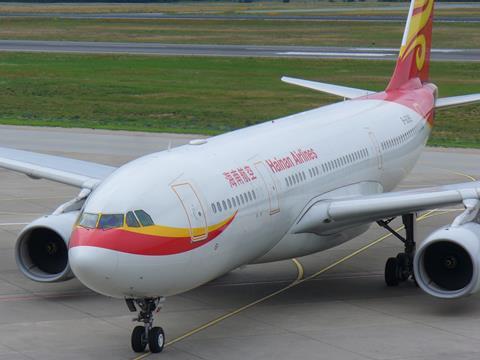 Hainan, which in January completed business restructuring, reported a 16% year-on-year increase in revenues to CNY34 billion, while costs fell 9% to CNY46 billion.
The carrier posted a full-year net profit of CNY4.7 billion, reversing the CNY64 billion net loss in 2020.
Hainan's full-year earnings contrast with that of China's three largest carriers, which were all loss-making in 2021.
The carrier, previously part of the debt-laden HNA Group, was placed under new management under strategic investor Liaoning Fangda Group Industrial in early December 2021.
Liaoning Fangda was selected last September as the embattled HNA Group's strategic investor, paving for it to be the controlling shareholder of the group's aviation businesses.
QUARTERLY LOSSES WIDEN
Despite improved financial performance in 2021, Hainan warns that it was far from being out of the woods.
It notes that global aviation recovery remains slow with "much uncertainty". Hainan states that the relaxation of border restrictions globally "makes epidemic prevention more difficult", alluding to China's strict zero-infection pandemic management strategy.
Rising fuel costs, as well as geo-political tensions, are also challenges in the new year, adds Hainan.
In the first quarter of 2022, the carrier posted an operating loss of CNY3.95 billion, widening the CNY3.3 billion operating loss in the same period in 2021.
Revenue for the three months to 31 March fell 18% year on year to CNY6.4 billion, as China battles a wave of infections caused by the more contagious Omicron variant. Costs, meanwhile, fell only 9% to CNY10.2 billion.
The airline also widened its net loss for the quarter, at CNY3.6 billion, compared to CNY2.6 billion a year ago.