Hawaiian Airlines says that frequent fliers can redeem air miles to pay for a coronavirus test that would allow them to bypass the state's 14-day mandatory quarantine.
The Honolulu-based airline says on 12 November that members of its loyalty programme can redeem 14,000 so-called "HawaiianMiles" to pay for a mail-in test ahead of their departure to the islands.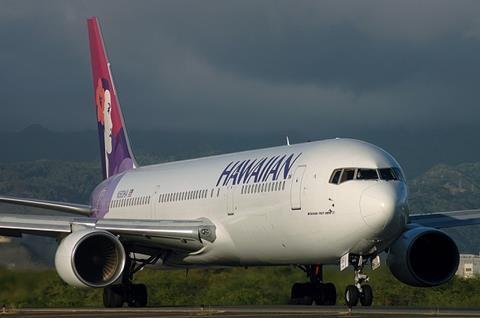 "We remain dedicated to making testing for our guests as convenient and accessible as possible," says Hawaiian's senior vice-president of marketing.
The test kit, from Vault Health, is mailed to the passenger who will self-collect a saliva sample with the assistance of a supervisor in a video call. The sample is shipped to a lab which promises results within 24 hours. The overall turnaround time for the test is less than 72 hours, Hawaiian says.
According to Vault Health's website, the individual test would normally cost $150.
On 15 October, the state of Hawaii eased travel restrictions to the Pacific archipelago, allowing inbound passengers who can show a negative test to bypass the quarantine requirement that had been in effect for all arriving travellers since March.
Earlier this week, US airlines lobby group Airlines for America (A4A) said there has been a marked upward trend in travel to Hawaii since the rules were relaxed. In the past week, there were 76% fewer travellers to the archipelago than in the same period a year ago. That is improved from the previous 95% decline.
Hawaiian AIrlines posted a $93 million loss in the third quarter of the year, which ended on 30 September, as it struggled to rebuild its business after the islands effectively sealed themselves off from the outside world to prevent the rapid spread of the highly communicable virus. Third-quarter revenue tumbled 90% year-on-year to $76 million.