Pilots at Hawaiian Airlines have approved a new contract which will give them an average pay raise of 32% over four years.
Pilot union Air Line Pilots Association, International (ALPA), said on 10 February that the contract gives flight deck crew "industry-leading rates" for both the passenger segment as well as the airline's new Airbus A330F cargo fleet, which is set to begin operating this year. Hawaiian had announced in October that it would begin to fly at least 10 of the type for Amazon.
The pilots voted in favor of the agreement by 65%, with 93% of eligible pilots casting ballots. The new contract will take effect on 2 March.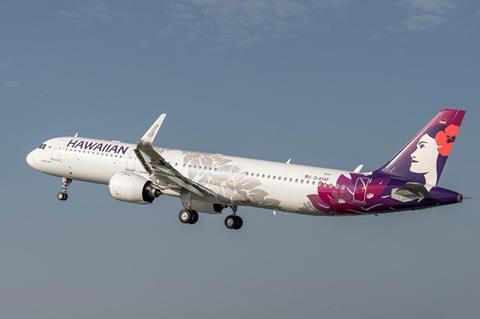 "This new industry-standard agreement brings us into line with our peers and cements our status as one of the nation's leading airlines," says Larry Payne, chairman of ALPA's Hawaiian pilot group.
The agreement includes an immediate 16.6% pay increase on average for pilots at the Honolulu-headquartered company. It also adds a $10 million ratification bonus, raises company retirement contributions, creates a new health reimbursement account and increases schedule flexibility, ALPA says.
In past weeks, numerous airlines – including JetBlue Airways, Spirit Airlines and Delta Air Lines – have agreed to new contracts that give pilots handsome pay increases amid the ongoing US pilot shortage. Pilot pay at regional airlines has also risen sharply in past months – an attempt by regional carriers to attract more people to the career path, and keep them from moving on to larger mainline carriers.