Hawaiian Airlines has agreed to operate at least 10 Airbus A330-300 Freighters for Amazon and has granted the online retailer rights to own 15% of Hawaiian Holdings' stock.
The carrier, which disclosed the wide-ranging partnership with Amazon subsidiary Amazon.com Services on 21 October, also says it will open a new US-mainland crew base to support the operation.
"This relationship provides a catalyst to grow our business and the unique opportunity to diversify our revenue sources while capitalising on our established strengths," says Hawaiian chief executive Peter Ingram.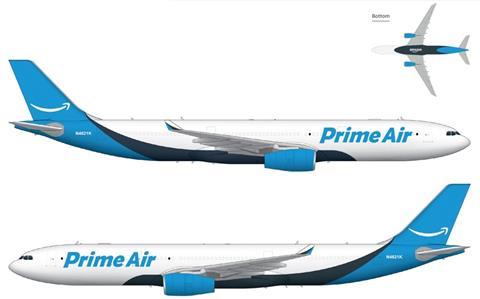 Amazon will lease the aircraft from lessor Altavair, Airbus says on 21 October. The lessor has operations in Dublin, London, Seattle and Singapore.
The jets will be A330-300P2Fs – Airbus' passenger-to-freighter modification. They will be converted into cargo jets by Elbe Flugzeugwerke, an Airbus-ST Engineering joint venture, Airbus says.
The airframer's chief commercial officer Christian Scherer says the arrangement reflects Airbus's ongoing success in securing a larger hold of the air-freighter market.
Hawaiian will begin flying Amazon's A330-300P2Fs in autumn 2023 and plans to place the other nine into service by the end of 2024. It will use the jets to "move cargo between airports near the online retailer's operations facilities", Hawaiian says.
It "will supply flight crews, perform maintenance and certain administrative functions, and procure aircraft insurance," according to a regulatory filing.
The operation will continue for nine years under the agreement, but the term can be extended by another five years.
"The agreement also contemplates the ability to expand the fleet depending on Amazon's future business needs," Hawaiian adds.
The Honolulu-based carrier has years of experience with A330s, having 24 of the type in its fleet, according to Cirium fleets data.
"They will maintain and operate the next generation of aircraft in our fleet, which is a reflection of the excellence they deliver as a renowned airline with their own A330 aircraft," says Sarah Rhoads, vice-president of Amazon Global Air.
Amazon will pay Hawaiian a "fixed monthly fee per aircraft, a per-flight-hour fee and a per-flight cycle fee", and reimburse Hawaiian for fuel, maintenance, insurance and other operating expenses, the regulatory filing shows.
The ownership aspect of the deal grants Amazon rights to purchase roughly 9.5 million Hawaiian shares through 20 October 2031, at a price of one cent per share. Those shares would equate to 15% of Hawaiian's total shares.
The carrier is planning significant expansion to support the operation.
"Hawaiian intends to establish a pilot base on the continental US, grow existing maintenance bases and expand the hiring of pilots, mechanics, dispatchers, supply chain employees and others", the airline says.
The agreement mirrors similar deals Amazon struck with US air-cargo companies Air Transport Services Group (ATSG) and Atlas Air Worldwide Holdings, but marks its first such deal with a major US passenger airline. ATSG and Atlas operate 767Fs for Amazon.