Lufthansa Group is prepared to offer up to 70% of its pre-crisis capacity for the coming summer season, as it reports its latest steps towards emerging from the pandemic as a structurally smaller operator.
Driven by tourism and cargo demand – and a strengthened cash position – the short-term recovery could see the group reach 40-50% of 2019 capacity for the whole of 2021, it said in its full-year results filing on 4 March.
That potential recovery is backed by group liquidity of around €10.6 billion ($12.8 billion) as of 31 December 2020 – including €5.7 billion related to undrawn government stabilisation measures.
"The Lufthansa Group is well financed beyond 2021," says chief financial officer Remco Steenbergen. "This is also helped by the previously unused elements of the stabilisation package, which we can draw on as needed to further strengthen our balance sheet."
As its business transformation effort continues, it ended 2020 with 757 aircraft in its fleet – a fall of six year-on-year. That marks the first, tentative step towards a 150-aircraft reduction from its pre-pandemic fleet size by the middle of the decade.
The group expects its workforce to stablise at around 100,000, with 10,000 more job losses ahead, which will eventually bring total cuts to 38,000 positions.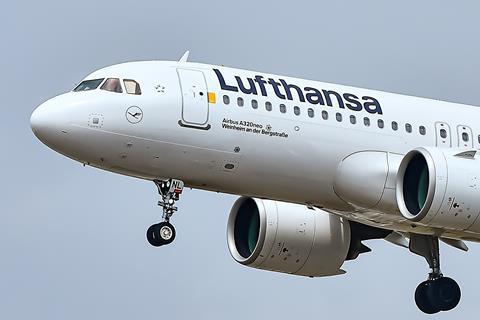 It notes that uncertainty remains around the the recovery in long-haul demand – particularly from what is likely to be a structurally smaller business-travel sector.
Overall, for the year ending 31 December 2020, Lufthansa Group reported a net loss of €6.7 billion on a 63% drop in revenues to €13.6 billion.
It closed the year with net debt some 43% higher at €9.92 billion.
Freight was a bright spot, despite a 36% decline in capacity, with high yields driving Lufthansa Cargo to an adjusted operating profit of €772 million, up from €1 million a year earlier.
The group's airlines saw revenues down 74% at €7.2 billion, as they recorded an adjusted operating loss of €5.4 billion.
Maintenance division Lufthansa Technik's revenues were down 42%, with an adjusted operating loss of €383 million.
The group expects cash burn to be "limited" to around €300 million in the first quarter of 2021 – flat with the figures seen in the fourth quarter of 2020.
Positive cash flows can be generated when capacity rises above 50%, it states. For the fourth quarter of 2020, Lufthansa Group reported a net loss of €1.41 billion, on revenues 71% lower at €2.59 billion.