Asiana Airlines will soon change hands, after a consortium formed by Hyundai Development (HDC) and Mirae Asset Daewoo committed to a W2.5 trillion ($2.2 billion) deal.
The consortium is paying W322.8 billion for Kumho Industrial's 31% stake in Asiana, acquiring 68.69 million existing shares in the carrier at W4,700 each.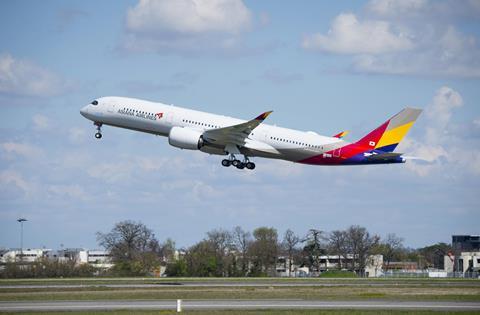 It also plans to invest W2.21 trillion in new shares issued by Asiana and its affiliates – Air Busan, Air Seoul, Kumho Resort and Asiana IDT.
The bulk of this investment is coming from HDC, which is targeting a 61.5% stake in Asiana following the rights issue. Mirae Asset Daewoo will hold 15% as a financial investor.
The consortium aims to complete the acquisition by April.
Chung Mong-gyu, chairman of HDC Group, states: "We will start the acquisition process immediately to [financially] stabilise Asiana Airlines and make it a carrier that puts safety first."
He adds that Asiana will receive W2.18 trillion in fresh funds, putting it in a good financial position compared with its peers.
"It will be an opportunity to take a step forward not only in the aviation industry but also as a transport group."