Iberia parent IAG has agreed a deal with Air Europa owner Globalia to acquire the remaining 80% of the Spanish carrier, expecting the transaction will take 18 months to clear regulatory approvals.
IAG had originally reached a pre-pandemic deal to buy the whole of Air Europa's share capital, but the acquisition fell through in late 2021 amid European Commission competition concerns.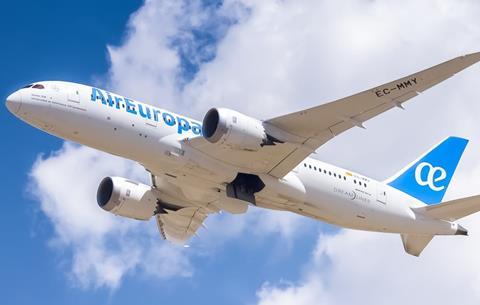 It remained keen on a deal, and in August last year took a 20% stake in Air Europa after converting a €100 million ($106 million) loan to the carrier.
IAG has agreed terms on acquiring full control of Air Europa, valuing it at €500 million. It has also agreed to pay a €50 million break fee if it terminates the deal, or if conditions for closing are not met by the second anniversary of the agreement.
IAG chief executive Luis Gallego says: "With the acquisition of Air Europa now agreed but subject to regulatory and other approvals which could take around 18 months, we are intending to welcome another leading airline to the group.
"This acquisition will enable us to grow Madrid as a hub, offering a gateway to Latin America and beyond, with benefits for customers, employees and shareholders."
Spanish carrier Air Europa flew 10 million passengers last year, compared with 13.1 million in 2019, and has a fleet of 50 aircraft and 15 aircraft on order via lessors.
IAG, which also owns British Airways, Vueling and Aer Lingus, announced the deal after disclosing its return to full-year profit in 2022. IAG made an operating profit €1.26 billion last year and is projecting increasing profits before exceptional items in the range of €1.8 billion to €2.3 billion this year.