European airline group IAG expects to be profitable from the second quarter and for the year as a whole on sharply ramped-up operations, after cutting operating losses before exceptionals by a third to €754 million ($797 million).
The British Airways and Iberia parent reported a more than trebling of revenues in the first quarter from €963 million to €3.4 billion during the first three months of the year. Costs over the same period doubled to €4.2 billion.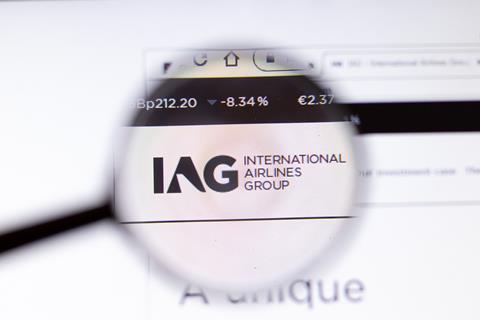 IAG chief executive Luis Gallego says: "The group's operating loss reduced significantly in the first quarter compared to last year, with our losses reflecting normal seasonality, the impact of Omicron and costs associated with ramping up operations."
The group cut pre-tax losses before exceptionals by a quarter, to €916 million, for the three months ended March 2022, while its net loss was down 27%, to €787 million.
"Demand is recovering strongly in line with our previous expectations. We expect to be profitable from the second quarter onwards and for the full year," says Gallego.
"Premium leisure continues to be the strongest performing segment and business travel is at its highest level since the start of the pandemic."
IAG group capacity reached 65% of 2019 levels in the first quarter, climbing from 58% in the fourth quarter of last year. IAG expects to operate 80% of pre-crisis capacity in the second quarter and to reach 85% by the third quarter, which includes "close to fully restored" capacity on the North Atlantic.
Notably, British Airways has been hit by operational challenges in recent weeks. "Globally the travel industry is facing challenges as a result of the biggest scaling up in operations in history and British Airways is no exception," says Gallego, citing a steep ramp-up in capacity amid the lifting of travel restrictions.
"The airline's focus at the moment is on improving operations and customer experience and enhancing operational resilience."