IATA has appealed to governments to take "urgent measures" to support air cargo operations, which are instrumental to transport essential medical supplies and keep the economy functioning as airlines cut passenger services up to 75%.
In the end, IATA says, keeping freight moving around the world will "save lives".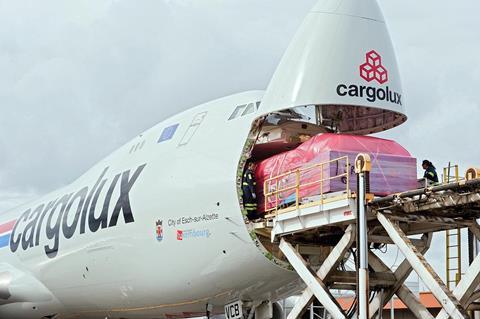 "Over 185,000 passenger flights have been cancelled since the end of January in response to government travel restrictions," says IATA's director general and chief executive Alexandre de Juniac on 16 March 2020. "With this, vital cargo capacity has disappeared when it is most urgently needed in the fight against COVID-19. The world's fleet of freighter aircraft has been mobilised to make up this capacity shortfall."
"Governments must take urgent measures to ensure that vital supply lines remain open, efficient and effective," IATA says.
So far, Korean Air and Singapore's low-cost carrier Scoot have pivoted some excess capacity to cargo-only operations. IAG said it is considering recruiting some of its passenger aircraft for air freight operations to ensure essential cargo supplies are maintained as the coronavirus crisis persists.
Korean is using passenger aircraft as freighters on some routes, seeking "new opportunities in the market amid unpredictable changes such as suspensions of flights and the US' restrictions on European countries", the airline says on 15 March. Scoot is using passenger planes to ferry goods to China on routes that had previously been suspended until 25 April, Air Cargo News reports.
American Airlines says, "The demand for cargo remains strong despite the decline in passenger traffic. As of today, we continue to fly cargo on all flights in our current schedule, including all of our domestic locations. We are actively working with customers to identify additional solutions to move their cargo business, including charter options."
Delta Air Lines says it is launching charter operations in response to customer queries.
"Offering new supply chain solutions through Delta Cargo to our customers is one opportunity for us to provide the support our customers tell us they need during this unprecedented business environment," says Shawn Cole, vice-president of Delta Cargo.
Freight carrier FedEx says it is "adhering to all regulations and guidelines from government authorities related to containment of COVID-19. FedEx Express continues to operate inbound and outbound flights to and from impacted areas as local conditions and restrictions allow, and we are taking recommended precautions in terms of pilot, team member and customer health and safety."
Since the global pandemic began several weeks ago, air cargo has been "a vital partner in delivering much-needed medicines, medical equipment (including spare parts/repair components), and in keeping global supply chains functioning for the most time-sensitive materials," IATA says. The organisation says cargo carriers are working closely with governments and health authorities to make sure this can happen.