Icelandair is axing 2,000 staff and imposing reduced working hours and wage cuts on its remaining employees as it looks to shore up its finances.
It will also undergo a thorough reorganisation to enable it to reduce costs and streamline its operations.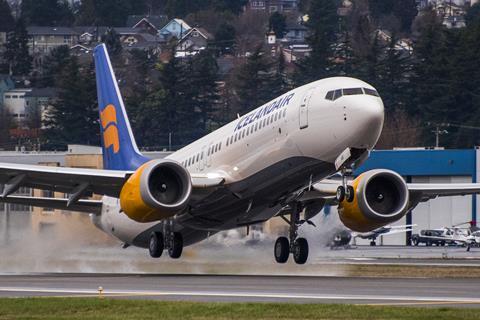 Although the job cuts will impact all areas of the company, they will be deepest among crew, maintenance and ground staff. The majority of Icelandair's remaining staff will continue in part-time roles, while for full-time employees there will be salary reductions.
"These measures are very painful yet necessary," states chief executive Bogi Nils Bogason. "We are facing considerable uncertainty for the unforeseeable future and preparing the company for an uncertain period of limited operations."
Icelandair says it has already taken "decisive measures" to cut costs across its operations, such as through renegotiation with suppliers and its lenders.
"We hope to be able to scale up quickly as soon as markets start to recover and offer those affected employment again," adds Bogason. "Despite the significant reduction in our workforce, we are safeguarding necessary core operations and maintaining the flexibility and agility to respond quickly when demand starts to increase."
The Icelandic flag carrier said on 17 April that it was preparing to issue new shares to shore up its liquidity and strengthen its financial position amid the Covid-19 crisis, but is yet to disclose further details of this plan.