Icelandic start-up carrier Play has signed letters of intent with two lessors covering six more Airbus A320neo family aircraft.
Play launched services in June this year on European routes from Reykjavik using three A321neos and earlier this month filed for US regulatory authority to launch transatlantic flights next spring.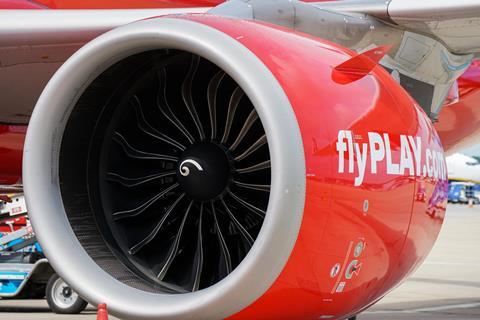 In a first-half trading update today, Play says it agreed on letters of intent with two undisclosed "major international aircraft lessors" during August.
One deal covers the delivery of two new A320neos, built in 2020, in the first quarter of next year. The other covers three A320neos and one A321neo for delivery in spring 2023. It says it is in final negotiations over the lease of a 10th aircraft.
"With these arrangements, Play is taking advantage of favourable terms in the current post-Covid market and will have six aircraft in its fleet in spring 2022 in time for the hub-and-spoke operation between North America and Europe," the airline says.
"Negotiations for additions to the fleet for 2024 and 2025 are also ongoing, bringing the total fleet to 15 aircraft by 2025."
The budget carrier has outlined plans to build a network following a similar model to collapsed Icelandic carrier Wow. Play chief executive Birgir Jonsson has pointed to the success of the former Wow network, prior to its expansion into widebody services.
Play points to achieving its main objective of "safe and reliable operations" in its first full operational month in July.
But it adds: "Frequent changes to governmental travel restrictions and new Covid-19 cases negatively influenced demand and utilisation in the short term."
It says rising Covid case rates in Iceland in mid-July subdued demand and resulted in travel being rescheduled. "For Play, this meant a transfer of income and load in time, without loss of revenue," the airline says.
Play says it carried just 10,000 passenger in July at a load factor of 41.7% but that it carried more than 17,000 passengers at a load factor of 46.4% in August. It expects a further increase in load factor for September.