Beleaguered Garuda Indonesia widened its full-year losses on the back of hefty impairment and lease termination costs, and despite a decline in expenses.
The carrier, which recently obtained creditor and court approval for a multi-billion dollar restructuring plan, was nearly $4 billion in the red for the year to 31 December 2021.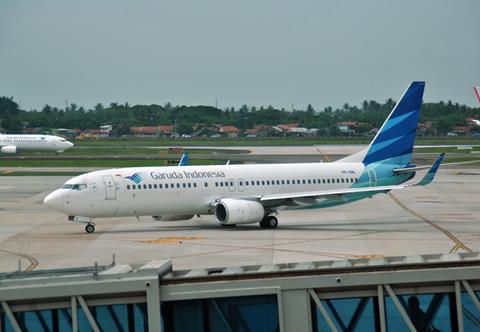 This compares to the record operating loss of $2.2 billion for 2020, as the coronavirus pandemic impacted passenger travel sentiment.
The airline's financial results show a significant $1.5 billion impairment of non-financial assets, as well as a $888 million early lease contract termination cost, believed to be linked to fleet optimisation efforts. The carrier had previously disclosed post-restructuring plans to cut more than 80 aircraft from its fleet.
Garuda's full-year revenue fell 10% year on year to $1.34 billion, led by a fall in passenger travel revenue, but offset by a small uptick in cargo takings.
Full-year expenses, meanwhile, fell 21% against 2020 to $2.6 billion.
Garuda widened its net losses for 2021 to $4.2 billion, compared to 2020's $2.5 billion.
The airline burnt through a significant amount of cash through the year, ending 2021 with $54 million in cash and cash equivalents, compared to $199 million at the start of the year.
For a second year, the carrier's auditors expressed "significant doubt" over the carrier's ability to continue as a going concern, noting, among other things, that its liabilities in 2021 exceeded total current assets by almost $5.5 billion.
The carrier in its financial results cites its restructuring plan - called a 'Rescue through Restructuring Plan' - with the aim of turning its dire condition around.
Still, it was aware of risks that could affect the implementation of its restructuring plans, including rising fuel costs, volatility in exchange rate, as well as the threat of another pandemic, which it says could lead to a collapse in travel demand again.