India will suspend all scheduled passenger flights for nearly three more weeks after the country extended a coronavirus-related lockdown.
The civil aviation authority says that all domestic and international scheduled airline operations will remain suspended until 3 May, 23:59. It adds that the restriction does not apply to international all-cargo operations and "flights specifically approved" by the authority.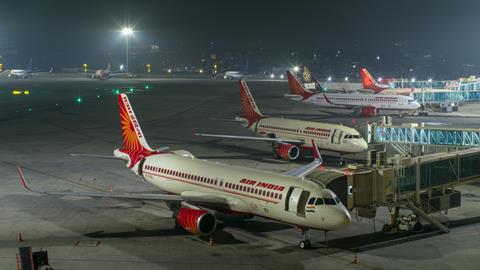 India's civil aviation minister Hardeep Singh Puri says in a post on Twitter: "There were good reasons for the lockdown to be extended till 3rd May. We can consider lifting restrictions on both domestic [and] international flights thereafter."
India has been on lockdown since 25 March and prime minister Narendra Modi said today in his address to the nation that the country has made good progress tackling the coronavirus outbreak.
"With fast action and early lockdown, India has done much better than the bigger nations. The figures from these developed nations show that we are doing much better," local magazine India Today quotes him as saying.
As of 14 April, the country has 10,541 confirmed cases of coronavirus and the death toll stands at 358, according to data compiled by Johns Hopkins University.
The government first banned international flights from 22 March and Cirium fleets data shows that over 600 aircraft in the country are affected. Besides Air India, all other airlines have been taking bookings for commercial passenger services from 15 April, according to local financial newspaper Mint. With the flight ban extended, they will not be able to fly passengers with tickets dated between then and 3 May.
Following today's announcement, Air India says it will suspend all operations until 3 May, according to local media reports.
Budget carrier IndiGo tells Cirium it will provide an update "soon" about its "important lockdown plans post government's announcement".
Earlier this month, IndiGo's chief executive Ronojoy Dutta said that IndiGo will gradually ramp up operations and discontinue on-board meal services for a brief period after resuming services, according to Mint.
SpiceJet is preparing to implement social distancing measures both on board and on the ground when it resumes operations.
Mint reports that the airline has marked the cabin area and aircraft seats with "X" to indicate "no occupancy". Even the aircraft boarding staircase steps are properly marked with special ink that is illuminated at night to set a one-metre distance between passengers.
Vistara tells Cirium that when it resumes operations, it will continue to take preventative measures against coronavirus, including temporarily removing reading materials from seat pockets, cleaning all aircraft at the turnaround of every single flight, and deep cleaning aircraft every 24h.