Indian start-up carrier Akasa Air has unveiled its branding as it continues preparations to launch flights next summer.
Plans for Akasa first emerged from one of its backers, Indian billionaire Rakesh Jhunjhunwala, in August. The airline in October said it had secured a no-objection certification from the country's aviation regulator and the following month disclosed an order for 72 Boeing 737 Max aircraft at the Dubai air show.
The carrier has now unveiled its livery and branding, including its 'Rising A' symbol and the tagline, 'It's Your Sky'.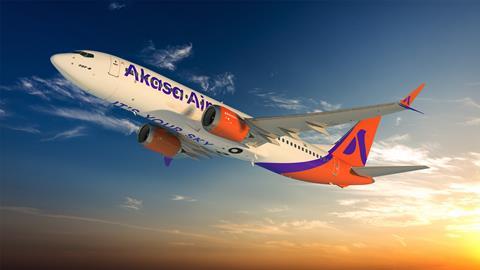 Akasa chief executive Vinay Dube says: "Translating our purpose to serve every traveller with an innovative yet simple alternative required a modern and confident symbol. The Akasa Air brand identity encapsulates the collective spirit of flying and the individual pursuit of dreams for each of us."
The airline reiterates its aims of launching commercial flights in the summer of 2022, but is yet to release any details of its network plans.
Dube is the former chief executive of Jet Airways, new backers for whom are planning to revive the Indian carrier which has been grounded since the spring of 2019.