Indian carriers have found leasing aircraft to be more convenient than financing them by other means, a former chairman of flag carrier Air India has told an industry conference.
"Financing of aircraft, the airlines have found the lease financing to be the most suitable option," said Pradeep Singh Kharola, secretary at the ministry of civil aviation, on 26 February. "Leasing is an efficient means to fulfil short-term capacity requirements without burning the balance sheet of the airlines."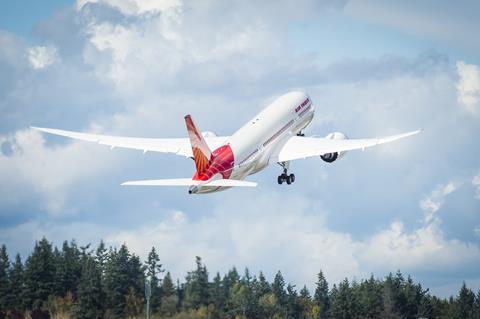 Kharola, who was speaking at the Indian Aircraft Leasing Summit, added that from about 700 at present, the total number of aircraft in India was set to increase to about 1,200 in the next few years. These will include freighter aircraft, of which six were added to Indian carriers' fleets last year to make a total of 25 in the country today.
Of the 638 aircraft operated by six major Indian carriers – Air India, Air India Express, GoAir, IndiGo, SpiceJet and Vistara – less than a fifth are self-managed by those carriers, according to Cirium fleets data.
Kharola laments, however, that while aircraft financing is the "most profitable segment of [the] aviation value chain", foreign financiers and lessors are the "biggest beneficiaries of India's growing aviation strength".
He adds: "Unfortunately, so far, not a single aircraft has been leased from within India – and that's the challenge we faced."
Kharola goes on to say, however, that his ministry has been working on this issue for the past three years.
He says Investec is setting up a subsidiary in the Gujarat International Finance Tec-City (GIFT City). Groundwork on this smart-city project began in October 2011, according to a 6 February article in The Indian Express.
In the country's 2015-16 budget announcement, then-finance minister Arun Jaitley said regulations would be put in place to kick-start the country's first International Financial Services Centre (IFSC) within GIFT City, the report added.
Dublin, a city widely regarded as the world's top aircraft leasing centre, also has an IFSC, which has played an important role in development of the Irish capital's aviation leasing industry.
Kharola says Acumen Aviation will be "participating in the aviation lease and financing activities" in GIFT City.
Mumbai-based aviation consultancy and asset management company Vman Aero is meanwhile setting up an aircraft leasing company called Vman Aero Services. Vman Aero is headed by Vishok Mansingh, a former Kingfisher Airlines executive who served as the chief executive of start-up Trujet between 2017 and 2018, according to LinkedIn profile.
Vman Aero provides "owners, airlines, operators and financiers of commercial aircraft a bouquet of services to economically, efficiently and effectively own and operate asset[s] during [their] lifecycle", according to the company's website.
Kharola also says private-jet operator JetSetGo Aviation Services is in the process of establishing a leasing entity in GIFT City. Meanwhile, Indian budget carrier SpiceJet is considering leasing seaplanes from within the country.