Indian airline IndiGo is cutting 10% of its workforce due to the pandemic-induced industry downturn, saying cost cutting has been insufficient to prevent a companywide contraction.
"It is impossible for our company to fly though this economic storm without making some sacrifices, in order to sustain our business operations," IndiGo says in a 20 July statement. "After carefully assessing and reviewing all possible scenarios, it is clear that we will need to bid a painful adieu to 10% of our workforce."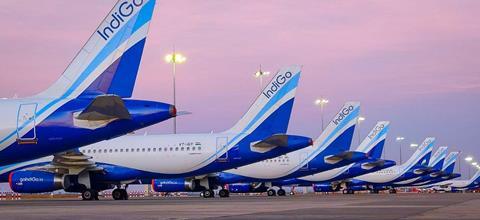 "It is for the first time in the history of IndiGo that we have undertaken such a painful measure," the low-cost carrier adds, noting that just six months ago it was planning for expansion. "This pandemic has forced us to reevaluate our best laid plans."
The company's statement does not specify employee numbers or say the degree to which different employee groups are affected.
IndiGo will pay affected employees severance equal to one month for every year of employment, up to 12 months of pay. Cabin crew may receive "longevity" bonuses and the company will continue providing medical insurance for all affected staff until December 2020, it says.
IndiGo had attempted to keep the downturn from affecting its employees, and therefore paid full salaries in March and April, it notes. The airline subsequently implemented pay cuts and subjected staff to unpaid leave.
"These cost savings are clearly not enough to offset the decline in revenues," it says.
IndiGo's fleet includes 233 in-service aircraft, including 25 ATR 72-600 turboprops and 208 Airbus A320-family jets. It also has 41 Airbus in storage, according to Cirium fleets data.