Indian carriers saw domestic traffic bounce back in July, after bottoming out in the middle of the year amid a lethal surge in coronavirus infections.
Data from the country's Directorate General of Civil Aviation shows a 61% month-on-month rise in domestic passenger numbers in July, to just over 5 million passengers.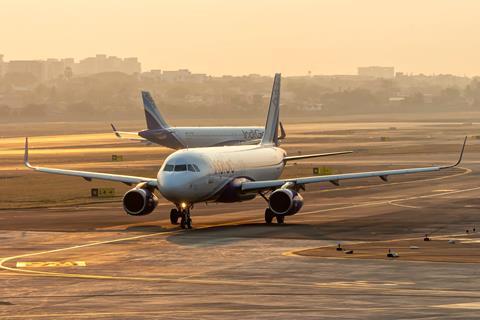 The figure also represents a two-fold increase in passenger numbers year on year.
State-owned Air India carried 670,000 domestic passengers in July, a 30% month-on-month rise. Among the privately-owned Indian carriers, low-cost giant IndiGo flew the largest proportion of domestic travellers, at 2.9 million. This was followed by SpiceJet with over 450,000 passengers, and full-service carrier Vistara, with around 400,000 passengers.
India's second wave of infections in the middle of the year saw record number of new coronavirus cases reported daily, and prompted strict domestic travel restrictions.
The second wave had a severe impact on Indian carriers' traffic and earnings. Both IndiGo and SpiceJet, for instance, widened their losses for the April-June period.
Since July, India's Ministry of Civil Aviation allowed airlines to raise domestic flight capacity to 65% of pre-Covid levels, up from 50% the previous month, when infections were still surging.