Indian billionaire Rakesh Jhunjhunwala says he plans to start a new carrier called Akasa Air.
Jhunjhunwala confirmed that the new carrier will be launched in 2022 during an interview with Bloomberg television.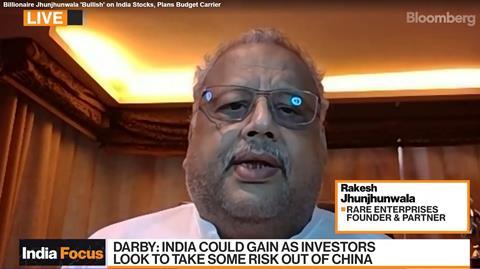 Jhunjhunwala is known as the 'Warren Buffett of India' owing to his success in the stock market. As of May 2021, Forbes put his net worth at $4.5 billion.
Media reports indicate that he is teaming up with two former airline chief executives, Aditya Ghosh, formerly of IndiGo, and Vinay Dube, formerly chief executive of both Go First (previously Go Air) and Jet Airways.
Jhunjhunwala plans to invest $35 million in the venture, giving him a 40% stake. Akasa Air will have 70 narrowbody aircraft within four years.
"It will be an ultra-low-cost airline and I've got some of the best airline people in the world as my partners," he says.
"It's a very good team and I will incentivise them in a way you will not believe. It depends on the culture of the company…[we will] incentivize, empower, delegate, respect."
He adds that he is "very bullish" on long-term demand for air travel in India, and believes some existing players may not survive.
As for approvals, Jhunjhunwala had this to say: "I don't need anybody from the aviation industry. I've got the team. I've got the money."
To a Bloomberg interviewer's remark that the best way to become a millionaire is for a billionaire to start an airline, JhunJhunwala had this to say: "When I first entered the stock market in 1985, they said the best way to go bankrupt is to go to a stock broker."
Ambit Capital analyst Varun Ginodia believes focusing on low-cost is the correct move for the tough Indian market, but that the new carrier must also find a way to raise ancillary revenue, which is challenging in India for the time being.
"[Jhunjhunwala's] plan to fly 70 aircraft in 4 years is also not easy," he says. "Vistara and AirAsia India have been present for last 5-6 years, and have reached forty-seven and thirty-four aircraft respectively."
Separately, India's average daily passenger departures have continued to rise, hitting 252,000 on 2 August, after plunging well below 50,000 daily in May, when India was in the grips of its deadly second wave of the coronavirus pandemic. Before the pandemic, daily passenger departures consistently came in at over 400,000.