IndiGo will focus on increasing capacity on routes outside its home market to ensure an even split between international and domestic services, after facing strong competition from other low-cost carriers within India.
Speaking on a conference call today to discuss the airline's fiscal third-quarter financial results, in which it revealed a more than doubling of net profits to Rs4.96 billion ($69 million) in the three months ended 31 December, IndiGo chief executive Ronojoy Dutta said the carrier was "moderating ourselves to be 50% domestic and 50% international" to shift the balance away from "metro to metro" markets.
He acknowledges strong competition from other low-cost carriers on routes linking large Indian cities – which "used to be our strongest market" – but notes that "non-metro markets are doing very well". As it stands, IndiGo's proportion of capacity and revenue on international routes is "marching towards 25%", says Dutta.
"The overall trend is for metro-to-metro markets to be weak due to new competition but, fortunately, international [markets] are a bright spot," he observes, citing IndiGo's recent codeshare partnership with Qatar Airways. IndiGo "will continue to evaluate such options" to help increase its "global footprint".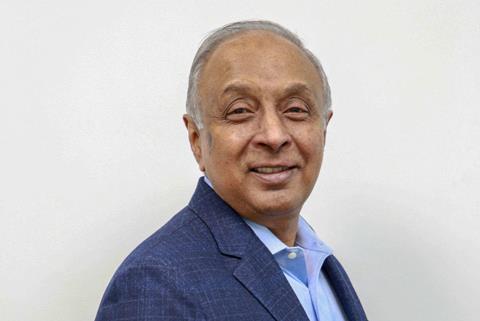 The airline has made "no decision" on whether to order widebodies in order to grow its international network, says Dutta, pointing out that its existing and on-order narrowbodies "can do a lot of markets, from Seoul to Bali to Barcelona". However, IndiGo has "no plans to fly nonstop to the US".
IndiGo operates a fleet of 126 A320ceos, 96 A320neos, 10 A321neos and 25 ATR turboprops.
Its total revenue in the fiscal third quarter was up just over a quarter at Rs103 billion, while costs rose 22% to Rs97.7 billion.
"We continued to do well on the revenue front while challenged by temporary headwinds on the cost front," says Dutta, warning that the "seasonally weak" final quarter of the airline's financial year "will get more challenging" as it continues to deal with Airbus A320neo delivery delays and the costs associated with replacing the Pratt & Whitney PW1100G engines on its existing fleet of the aircraft.
IndiGo has so far replaced 60% of the engines and is "confident" of completing the work "by the end of May". At that point, the carrier "will be in a position to increase aircraft utilisation", which will help offset rising costs, says Dutta.
Indian authorities in November instructed the country's A320neo operators to replace the PW1100Gs with an upgraded version, following a number of engine shutdowns which led to the grounding of 11 aircraft.
On the subject of compensation for the delivery delays and engine modifications, Dutta says the airline has "good contracts" in place with Airbus and P&W, and will "pursue them vigorously".
IndiGo grew overall capacity 19% in the third quarter, while traffic rose 23%, resulting in a 2.3 percentage point rise in load factor to 87.6%. The airline expects to increase fourth-quarter capacity 20%. Full-year capacity growth will be 23% this year and 20% in fiscal 2021.
Dutta says IndiGo is "closely monitoring" the situation in China amid the respiratory virus outbreak that has resulted in a number of flight suspensions to affected areas. China is a "new market" for IndiGo, he notes, and the airline has made "a very strong start" on the routes it operates to Guangzhou and Chengdu.
"We haven't taken a decision on capacity adjustments [to China]," says Dutta, but the airline will "decide soon" on whether to "discontinue China flights".
He adds: "This is a quickly evolving situation, and we will look at the numbers over the next few days." Any discontinuation would involve a phasing-out of China flights, rather than an abrupt end, and IndiGo would be able to "easily redeploy the aircraft".