IndiGo chief executive Ronojoy Dutta expects significant growth to come from India's smaller cities and regional towns.
In an interview with FlightGlobal, Dutta notes that airline profitability in India was formerly driven by major routes between key cities, such as Mumbai-Delhi, or Delhi-Bangalore. As a proportion of profitability, however, secondary routes between smaller cities are becoming more important.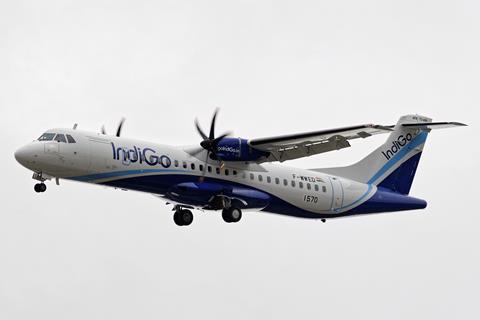 "Given the way the Indian market is growing, regional cities are very strong," he says.
Dutta has particularly high marks for New Delhi's Udan Regional Connectivity Scheme (RCS), which aims to bring connectivity to small towns throughout India.
On 11 February, IndiGo said it would add 22 flights to regional cities, including a new Agartala-Aizawl route under the RCS. Both cities are in India's far northeast. Agartala has a population of 438,000, while Aizawl has around 300,000.
Other regional routes launched on the 11th included Bhubaneswar-Patna, Jaipur-Vadodara, Chennai-Vadodara, Bengaluru-Shirdi, Patna-Kochi, and Rajahmundry-Tirupati.
Dutta says starting services to small towns can be a risky proposition for airlines, but government subsidies for the first two years of service greatly de-risk the decision for airlines.
In addition to opening up smaller cities, Udan RCS has also seen military airfields opened for commercial flights.
"Smaller cities are becoming so important, and that's thanks to the push by the government," says Dutta. "So I'm very pleased with all of that."
IndiGo can serve regional routes with its fleet of ATR 72-600s. Cirium fleets data shows that the carrier has 25 in-service examples, with 25 more on order.
"It's not only the growth in the domestic traffic that's encouraging, it's where the growth is coming from," adds Dutta.
"For a long time it was Hyderabad, Mumbai, Delhi, etc. But now it's in the smaller cities…that's why ATRs are good for us…therefore regional growth has become critical for us."