The parent company of low-cost carrier Indonesia AirAsia narrowed its nine-month operating loss, despite reporting a significant plunge in revenue.
For the nine months to 30 September, AirAsia Indonesia was Rp1.47 trillion in the red at the operating level. This compares to the Rp2 trillion operating loss it posted a year ago.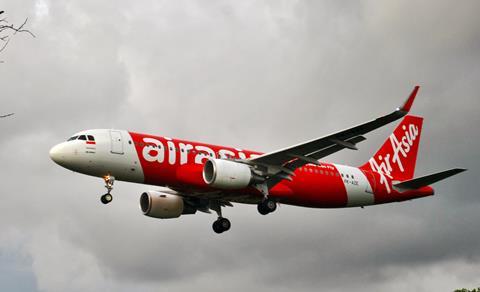 Revenue for the period plummeted 65% year on year to Rp487 billion, as the carrier halted all operations during Indonesia's worst wave of coronavirus infections in the middle of the year.
The collapse in passenger revenue was offset by a slight uptick in cargo, as well as charter, revenue for the nine-month period.
The reduction in flying activity also meant a decline in expenses — AirAsia Indonesia reported a 43% drop in costs to Rp1.96 trillion. Fuel, flight services as well as maintenance-related costs all registered significant decreases year on year.
AirAsia Indonesia ended the nine-month period with around Rp24 billion in cash and cash equivalents, compared to Rp18.7 billion at the start of the year. The company's liabilities exceeded its assets by just over Rp6 trillion as of 30 September.
To mitigate the "adverse impact" that the coronavirus pandemic has had on its operations, AirAsia Indonesia has listed several measures it is taking. These include keeping a tight lid on costs, optimising aircraft capacity, as well as negotiating with key vendors for payment deferrals.
"Moreover, the group has obtained the financial support letter from AirAsia Group Berhad stating that they will continue to provide sufficient financial support for the operations," it adds.