Newly-formed Indonesian cargo carrier RGA-Black Stone Airlines is eyeing opportunities beyond its core freighter business, including venturing into drone delivery services.
The Jakarta-based carrier is the third airline in the Asia Cargo Network group, after Asia Cargo Airlines and World Cargo Airlines, which were formerly known as Tri-MG Airlines and POS Asia Cargo Express, respectively.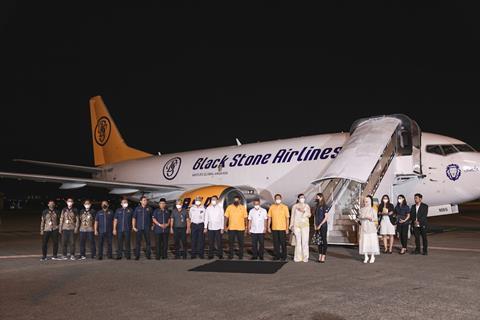 It received its air operator certificate from Indonesian regulators on 28 March and launched its inaugural domestic flight two days later, flying from Jakarta-Kupang-Labuan Bajo.
It operates one freighter at the moment, a Boeing 737-300F registered PK-MBS (MSN28200). According to Cirium fleets data, the aircraft was first delivered to EasyJet Switzerland in 1997, before operating for AirAsia, Citilink Indonesia, as well as Merpati. It underwent conversion in 2014 and operated with Bahraini carrier Texel Air until 2021.
Zack Isaak, president director of the cargo carrier, says the carrier hopes to "plug gaps in the Indonesian domestic market by providing solutions for local air cargo transportation needs".
He adds: "Using aviation market intelligence tools and through group experience in our existing cargo networks, we aim to improve niche transportation routes that are currently untapped by the local cargo airlines, while establishing new routes regionally with other countries in the near future."
The airline did not indicate how many freighters it is looking to take.
However, it has disclosed intentions to roll out pilot training programmes for drone delivery services, an area the carrier expects to see "exponential growth" in the near-term.
Isaak adds: "We intend to grow the potential of this market and achieve premium cargo capabilities, especially with high worth and time sensitive goods including medical equipment and emergency items."
Separately, the airline also hopes to operate passenger flights in the third quarter of the year, operating Umrah and Hajj pilgrimage flights to Saudi Arabia with four Airbus A330 aircraft.
RGA-Black Stone also hopes to launch flights into Mainland China, stating that such plans are "currently being discussed".