Grupo Aeromexico, the parent company of Mexico's legacy carrier, says a small rise in international capacity is helping the airline slowly recover from the coronavirus crisis as it continues to work through bankruptcy protection proceedings.
That said, the Mexico City-based airline on 20 April joined industry peers in reporting a decline in revenue and a loss for the first quarter of 2021, as the industry began to rebuild following Covid-plagued 2020.
In the first quarter of 2021, revenue fell 51% year-on-year to Ps6.9 billion ($346 million), down from Ps14.2 billion during the same quarter in 2020, the carrier says. The company's net loss for the January-March period was Ps4.2 billion, compared to Ps2.5 billion a year earlier.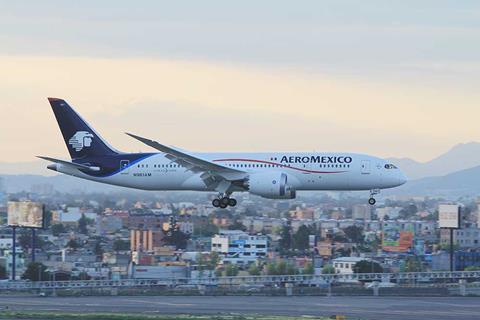 "In spite of the current challenging environment, the market showed encouraging signs of recovery," the airline says on 20 April. "Aeromexico has been successful in managing its network on a flight by flight basis ensuring that its operations are cash generative. During the first quarter, the company saw some recovery in travel demand supported by the strengthening of its domestic and international network."
The airline's first-quarter capacity (measured in available seat kilometres - ASKs) increased 7.3% from the final quarter of 2020, "primarily driven by a sequential recovery in the international market." That said, ASKs declined 37.5% year-on-year due to the impact of the Covid-19 pandemic.
Aeromexico had 106 operating aircraft at the end of March, unchanged from three months earlier. That number includes six Boeing 737 Max, the type which had been grounded for 20 months after two fatal accidents. All six have been brought back into the schedule, the airline says.
According to Cirium fleets data, Aeromexico has 55 Max on order with Boeing.
In June, Aeromexico filed for Chapter 11 bankruptcy protection in a US court. The company said the process would allow it to "strengthen its financial position and liquidity, protect and preserve its operations and assets, and implement necessary operational changes to address the impact of the ongoing Covid-19 pandemic".
It was the third Latin American carrier to seek protection from creditors after the coronavirus pandemic decimated the air transport industry during the first half of the year. Chile's LATAM Airlines and Colombia's Avianca had filed for bankruptcy in May after liquidity crises forced them to restructure debt.
Aeromexico says on 20 April that it "satisfactorily concluded negotiations in collective bargaining agreements" with its unions in January, which were key to receiving additional disbursements of approved loans. It received the final disbursement of $625 million on 24 February, the airline says.