Italia Trasporto Aereo (ITA) secured the rights to the Alitalia brand and website domain for €90 million ($104 million) on the eve of its first day of operations.
A statement from Alitalia administrators dated 14 October confirms ITA was able to purchase the brand for a sum that is €200 million less than the €290 million it had initially set as the base price to participate in the tender.
ITA launched services on 15 October, following Alitalia's last flight on the previous day.
Italian media reports suggest, however, that the successor operation will fly under the name ITA Airways, with the Alitalia brand having been acquired to avoid it falling into a competitors' hands – and for potential future use.
Those reports cite a press conference today, where ITA Airways was launched with an all-new blue livery, featuring the colours of the Italian flag on the tail.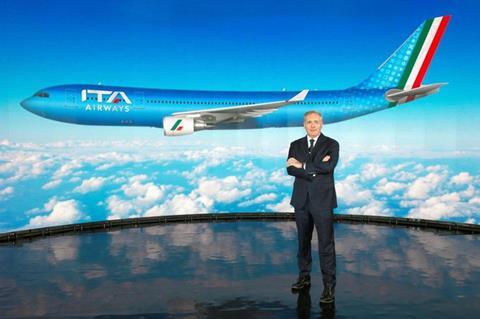 While that colour scheme is rolled out, the brand purchase also avoids complications around the new operation's use of ex-Alitalia jets that retain the latter's livery.
ITA is utilising various assets acquired from Alitalia, including 52 aircraft, slots and contracts, but also recently outlined plans to take new aircraft.