Japan Airlines (JAL) plans to increase its investment in low-cost carrier Spring Airlines Japan sometime in June.
The airline confirmed reports in Japanese media that it intends to "strengthen the investment" into the low-cost carrier, with further details to accompany its full-year results statement on 7 May.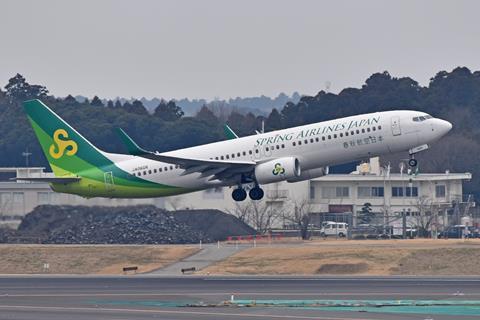 Quoting sources, Japanese media have reported that JAL plans to boost a 5% stake in Spring Airlines Japan to a majority stake, enabling it to better ride a recovery in Chinese tourism as the coronavirus pandemic abates.
The investment will reportedly be worth several billion Japanese yen. Founded in 2012, Spring Airlines Japan is 48% owned by China's Spring Airlines, with the balance held by Japanese investors.
Cirium fleets data indicates that the LCC has six in-service Boeing 737-800s.
In addition, JAL has a 50% stake in Jetstar Japan, after boosting its stake in November 2019 through the acquisition of Mitsubishi Corporation's 16.7% stake in the carrier. Jetstar Japan has 22 in-service A320s.
This followed the 2018 establishment of Zipair Tokyo. Zipair commenced passenger flights in October 2020, and operates a pair of 787-8s.