Japan Airlines (JAL) has sharply reduced its profit and revenue forecasts for the 2020 financial year, as it reports significant nine-month losses.
The airline expects a consolidated net loss of Y300 billion ($2.9 billion) in the 12 months to 31 March, which is markedly more pessimistic than the Y240-270 billion net loss forecast on 30 October 2020. It expects to earn revenue of Y460 billion, compared with Y530-600 billion previously forecast.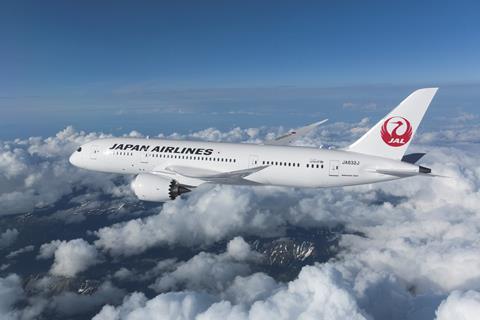 The company attributed the changes to the continued spread of the coronavirus globally.
"The recovery of international and domestic passenger demand may highly be affected by the circumstances surrounding Covid-19 and by situations of border closure and travel restrictions by governments so that uncertainty on our further business performances is expected to persist," it says.
"However, we revise our forecast of consolidated financial results, estimating the international and domestic revenue based on the assumption that the current international and domestic passenger demand booking level will continue until the end of this fiscal year."
The airline aims to increase its cargo and mail revenue, while at the same time reducing fixed costs and adjusting capacity flexibly.
In the nine months to 31 December, JAL suffered an operating loss of Y290 billion, compared with an operating profit of Y112 billion in the first nine months of the 2019 financial year. Revenue came in at Y357 billion, compared with Y1.1 trillion previously.
JAL's cash position, however, improved from a year earlier. As of 31 December 2020, it had cash and cash equivalents of Y455 billion, compared with Y326 billion a year earlier. JAL attributed this to borrowing and an equity issue. The airline has also been able to reduce monthly cash burn to around Y15 billion monthly during the third quarter, from Y20 billion in the second quarter.
As for passengers carried, both domestic and international traffic have been badly hit, although domestic passenger numbers, at 32% of the previous reporting period's levels, are much better than international passenger numbers, which are at 4.7% of previous levels.
In total, the airline carried 9.97 million passengers during the first nine months of the 2020 financial year, just 27.3% of the 2019 financial year. RPKs were down 85% and ASKs down 77%. Overall load factors fell 45.9 percentage points to 39.2%.