Japan Airlines has finalised plans to raise Y300 billion ($2.73 billion) — through hybrid loans and subordinated bonds — to prepare it for "drastic changes" in a post-pandemic business environment.
The carrier will raise Y200 billion through hybrid loans, and another Y100 billion in subordinated bonds, according to a stock exchange disclosure issued 10 September.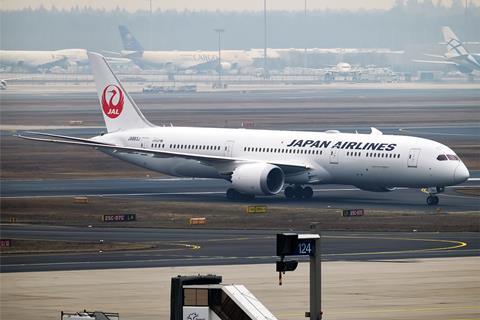 This marks the second major fundraiser from the Tokyo-based airline, following a November 2020 follow-on offering, which raised nearly Y183 billion.
Like many airlines around the world, JAL has been hard hit by a collapse in travel demand from the coronavirus pandemic. The carrier narrowed its losses for the quarter to 30 June, though it warned that it was "difficult to reasonably foresee" the timing and nature of the airline sector's recovery.
To this end, JAL says it will continue to beef up its war chest against the "severe circumstances" wrought by the pandemic.
"We have to make continuous efforts to strengthen the balance sheet further and enhance its financing capability to address drastic changes in the business environment anticipated for the post-COVID-19 era," the Oneworld carrier states.
"We have determined the hybrid financing as a funding method that would enable us to secure funds beforehand for growth on a long-term basis amid the prolonged impacts of the pandemic, and to strengthen its financial base via reinforcement of the balance sheet without dilution," it adds.
Part of the proceeds from the latest fundraising effort will go towards introducing the Airbus A350-1000 "as our new flagship aircraft" for the international fleet.
JAL adds that proceeds will also be allocated to "renewal of revenue management system for domestic routes, as well as debt repayment and funds for investments and loans.